Elisha Kasinskas
|
June 25, 2018
Article six of our "The 6 'W's' of Production Print Workflow" series, focusing on the who, what, why, where, when and how's of production print and part of our "Production Print Workflow Education Series" to understand Production Print Workflow.
Over the past few months, we've learned what production print is, who relies on it the most, when it's best to approach different customers, and why it is important for dealers to target a business's production print operations. In our final installation, we will turn our attention toward production print workflow software, and why it is as vital to production print as the devices themselves.
Production print workflow software enables in-plant departments and service bureaus to simplify and streamline production printing processes — from job submission to the moment ink touches paper and all the way through billing customers and reporting on shop operations. In turn, dealers can help their customers reduce print costs, keep up with fluctuating demand for print, and eliminate waste, bottlenecks and mistakes — all without having to add more staff.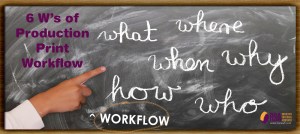 As more businesses consolidate all their print — office and production — into their in-plant departments, it is necessary for dealers to add workflow options in their portfolios. But it's not just a matter of necessity, it's also a smart move. Production print workflow can help dealers expand their presence in existing accounts. What's more, given how customers prefer to stick with their production print workflow, dealers are more likely to win and retain more business.
Let's explore the different components of production print workflow, and how you can use it to add value to your customers' businesses.
Optimized job submission
For most print providers, the job submission process is much more complicated than it needs to be. To their customers, it is a turnoff that might divert them to competitors. But dealers can help them simplify and shorten the job submission process while reducing overhead. With a Web to print platform, print providers can provide their customers with streamlined, on-demand access to print through a simple interface. Web to print platforms provide customers with a user experience not too different from ordering dinner online — you build your job, let them know exactly how you'd like it prepared, and hit submit. It puts the customer in the driver's seat, which allows them to perfect their vision before bringing it to life.
Automate annoying processes
Getting from submission to print can be a chaotic process — especially in high-volume and mixed-fleet environments. In-plant departments and print providers have to prioritize the work as it comes in, decide which device to use based on job specifications, and set up the job. This complicated juggling routine is wildly inefficient, riddled with mistakes and bottlenecks. But dealers can solve these workflow woes with automation. Using business rules, job prioritization, routing, and job setup tasks can be relegated to computers, so printer operators can focus on tasks that require a human's touch. Automated workflows can also reduce bottlenecks, since it is more proficient at scheduling jobs, determining printer availability and balancing loads.
Help them track costs and get paid
Many in-plant departments and print providers probably can't tell you exactly how much they spend on printing. A business can't possibly know how much they spend on print or what to bill for if they don't know exactly what they print. And without a complete picture of their organization, they might be overlooking some inefficiencies that would be clearly visible with a full overview.
But with the right software in place, in-plant printer centers and print providers can get a complete, crystal clear view of their entire production facility. All this data, which can get quite granular, can be pulled together into reports that can be used for billing purposes, or analyzed to identify process inefficiencies and over- or underutilized devices. In turn, they can automate billing so they can rest assured that bills are accurate, realize revenue faster, and ensure that their processes and fleets are always running optimally.
As you can see, there are plenty of incentives for dealers to consider production print workflow opportunities. With workflow automation, output management and Web to print platforms, dealers can help clients reduce costs, simplify processes, increase efficiency, increase their capacity to take on more work, and ultimately, widen their margins. In the end, it can be the difference maker when trying to attract new business or retain, or even grow your presence in existing accounts.
Contact RSA Today!
Contact your local RSA Business Development Manager to strategize about production print opportunities are in your area.
Don't miss any articles, dealer and partner resources, news, tips, or valuable information. Subscribe to RSA's email updates and we'll automatically alert you as each article is published.