Lower costs without increasing staff, increase efficiency and customer satisfaction, improve turnaround times, expand offerings and enforce brand standards and control.
The Benefits of Using WebCRD Web to Print
Eliminate dozens of workflow steps and offer more services with your existing equipment and staff.
Simultaneously control costs and increase efficiency through automation and workflow management.
Improve the customer experience and make it easier for customers to send work to you.
Capture data on all aspects of the ordering and production process for reporting and billing. 
Learn more about benefits and features of the latest release of WebCRD.
The Only Web to Print Solution Designed to Meet the Unique Needs of In-Plant Customers
Supports repeat users with fast ordering and reordering.
Includes multiple ordering options: file upload, catalog, inventory, digital download, multiple VDP options.
Provides custom reporting and scheduling data feeds for integrations with accounting and billing systems.
Easy to use single screen ticketing and advanced virtual real-time document preview.
Full-featured Production Management System - visibility by process area, operator audit logging, integration with make ready tools, barcode scanning.
Production automation/rules reduce touches and enable "lights out" printing.
Ticketing and printing to any production printer without other software.
Cloud-hosted systems are not shared with other customers.
APIs that allow customized and secure integration capabilities.
USA-based customer support and unlimited instructor-led training. No cap on implementation support hours.
Advanced security - NIST cyber security framework compliant with trusted practices tailored to meet security needs of the most secure industries.
Scalable to meet the needs of small to large in-plant print centers.
Other Key WebCRD Features
Unlimited storefronts, users and volume
Job tracking alerts and emails
PDF conversion – print driver (SurePDF) or server (CentralPDF)
Multiple Approval types and levels
Multiple VDP options: RSA's ImpactVDP included, Dynamics VDP and/or XMPie optional
Proxy ordering feature
Pricing - multiple price cards for different customer groups
In-line production preflight alerts and automatic font embedding
Late stage editing and automation via RSA's ReadyPrint prepress software
Smooth multi-device workflows with seamless integration to RSA's QDirect output management solution.
Barcoding for production
Procurement system punchout (cXML)
Support logins via SSO, LDAP, AD, and local accounts (multiple directories supported)
JDF compliant printing
ADA Compliant (WCAG 2)
Invoicing module
Custom reporting and dashboards
Integrations with numerous Print MIS, shipping, credit card processing, and print procurement solutions.
RSA handles the software installation – providing a turnkey system.
On site – Virtual Server Image
Hosted – RSA Cloud on AWS
On Site – Hardware server
Backup, DR and COB instances available
Read Our Other WebCRD-Related Content
Get the latest ideas, tips, how-tos, and success stories for WebCRD web to print in these webinars, presentations, case studies, white papers, blogs, and more!
Learn How In-Plants in Your Industry are Using Our Web to Print Solution
Download and read case studies about businesses in your industry that have used our web to print, transform, and output management solutions to improve their in-plant or production print center.
Learn What RSA Customers Love About Our Web to Print Solution
Read customer testimonials about our WebCRD web to print solution.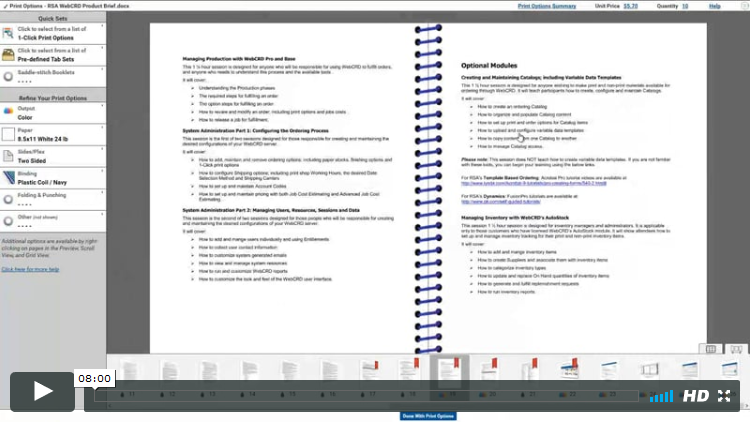 WebCRD is Configured To Your In-house Print Center's Needs
Our WebCRD Web to print solution has options, features, and configurations to meet the needs of all corporate, education, government and healthcare in-plants. Find out which WebCRD configuration will best meet your needs.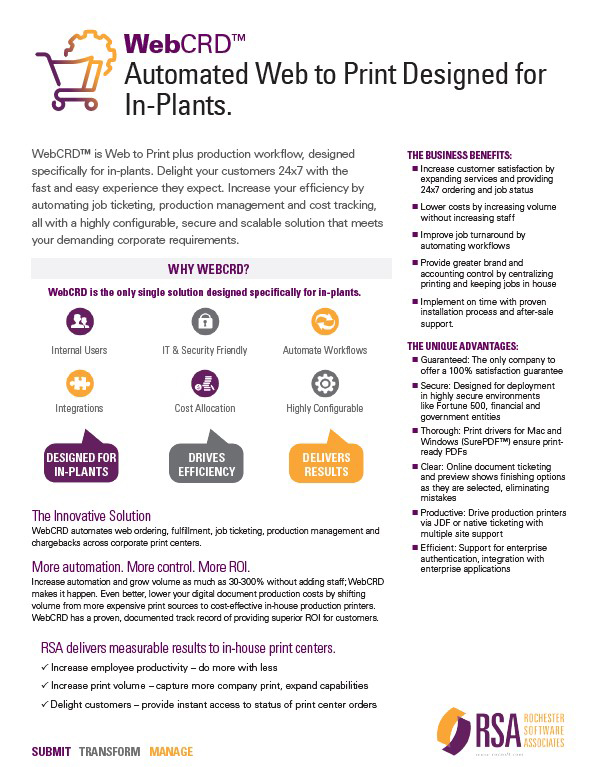 Download the WebCRD Brochure
Get more in-depth details, features, integrations, and specifications for this product in our downloadable PDF brochure.
Looking for SurePDF or CentralPDF Print-Ready Drivers?
RSA helps you send reliable print-ready PDF files from your desktop to the production print center with specialized print drivers. We offer two options, a client-side print driver (SurePDF) and a server-side print driver (CentralPDF). If you are a user looking for the SurePDF driver, contact your print center. Otherwise, please contact RSA customer service.