No matter how jobs arrive or where they need to go, QDirect makes it happen. QDirect controls and automates workflows, routes jobs, and manages output across the entire enterprise.
When it receives a job, QDirect analyzes and extracts key attributes that determine how, when, and where jobs should be printed or processed. Jobs are held in a spool where operators can manually schedule and route the jobs, or QDirect can print automatically based on preset business rules. QDirect automatically determines printer availability, balances the load, and directs each job to the appropriate queue.
Should You Consider Output Management for Your Print Center?
QDirect output management has options, features, and configurations to meet the needs of all commercial, in-plant, and production print centers in various industries including: corporate, education, financial services, insurance, government, healthcare, etc. 
Our print output management software is ideal for:
Companies with multiple input sources or printers
Print centers operating in mixed printer or high volume environments
Companies who require job or color-splitting, load balancing, and job batching
Corporate print centers running mainframe, network and publishing jobs
In-plants who would like to reduce manual steps in their workflow
Commercial printers looking for centrally managed, automated digital printing
The Benefits of QDirect Output Management
Boost productivity by controlling and automating production.
Reduce costs by maximizing printer utilization.
Improve flexibility and turnaround time by simplifying workflows.
Analyze centralized account billing or business planning.
Learn the benefits in the latest release.
The Output Management Solution Designed to Meet the Needs of In-Plant and Production Print Centers
Accepts multiple inputs and data streams including network, legacy data streams, scan, and Web to print
Supports custom scripting and workflows to address your print center's most complex challenges and requirements
Supports all production printers and controllers, diverse multivendor print center hardware, and software
Enhances productivity and enables accountability through reporting
Grows with your needs with add-on modules, APIs and customizations
Provides User Rights Management to restrict access and functions
Batch jobs based on like attributes such as same stocks, finishing requirements, and delivery location
Maximize your printer efficiency: load balance jobs across printers by job requirements and printer status
Easily monitor the status of the printer, a single print job or all of the jobs in the print process
Create and change tickets for single or batch jobs, including imported jobs from popular workflow and make ready programs
Document enhancement including preflighting, barcoding, and imposition (QDirect Pro)
Other Key QDirect Features
RSA handles the software installation – providing a turnkey system.
On Site – Virtual or Hardware server
Hosted – RSA Cloud on AWS
Backup, Disaster Recovery, and Test instances
Learn How Print Centers in Your Industry are Using Our Output Management Solution
Download and read case studies about businesses in your industry that have used our web to print, transform, prepress, and output management solutions to improve their in-plant or production print center.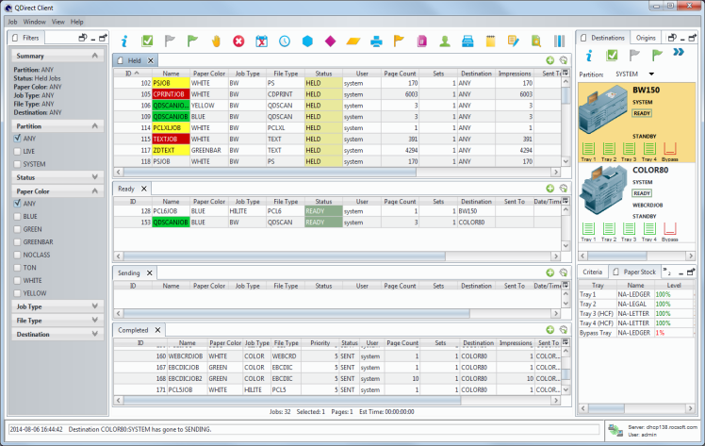 Will QDirect Solve Your Unique Print Center Challenges?
Find out how QDirect can best meet the specific needs of your print center operations. Ask questions and see QDirect in action in a walk-through demonstration of the software.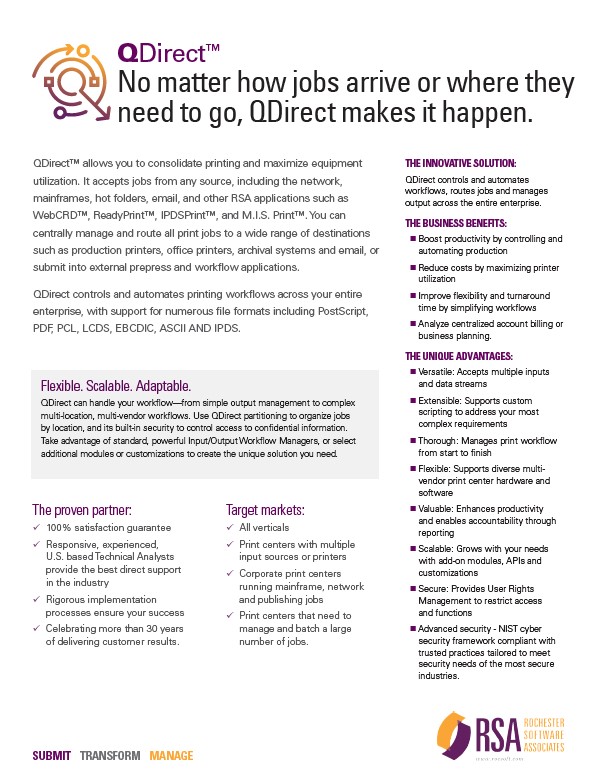 Download the QDirect Brochure
Get more in-depth details, features, integrations, and specifications for this product in our downloadable PDF brochure.