Overview & Features
Convert legacy datastreams to PDF
Repurpose content
Ideal for customer service
"
RSA is very good about ensuring everything is ready and fully tested on their site before it is installed on a customer's location.
Workflow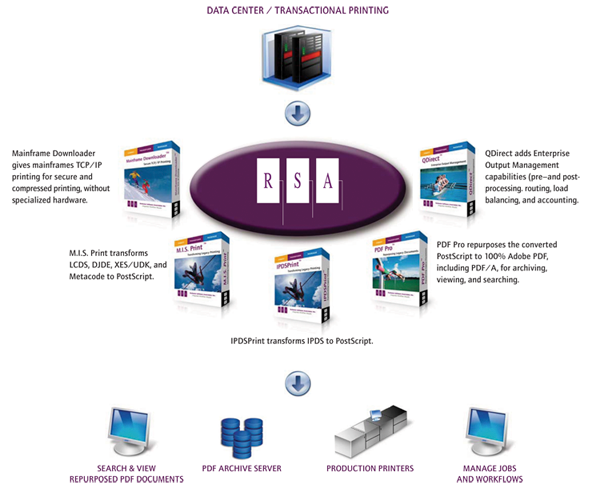 Specifications
PDF Pro and PDF Lite offer the option of converting datastreams transformed via RSA's M.I.S. Print and IPDSPrint into PDF for repurposing.
PDF Pro adds searching and indexing based on data stream content.
Features & Benefits
M.I.S. Print
IPDSPrint
Convert legacy data streams to PDF for repurposing
PDF Pro
PDF Lite
PDF Pro
PDF Lite
PDF/A ISO 19005 compliance for long-term archival
PDF Pro
PDF Pro
PDF archiving (actual text, not images) as well as TIFF option
PDF Pro
PDF Pro
Auto Page Rotation
PDF Pro
PDF Pro
PDF searching, copy/paste, dynamic naming based on variable data in print stream
PDF Pro
PDF Pro
PDF splitting, indexing, bookmarking, and document management integration
PDF Pro
N/A
Case Studies
City of Baltimore
Baltimore Does More, with Less, Thanks to QDirect, M.I.S. Print and PDF Pro from RSA