Home /

The Hanover Insurance Group
The Hanover Insurance Group
QDirect ensures higher quality communications with agents and customers
"
Every vendor said they could do what we needed. After speaking with RSA, we knew they could do what we needed.
Customer Background/Solutions Overview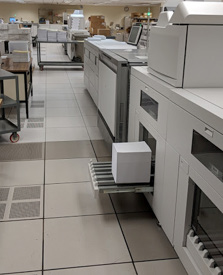 The Hanover Insurance Group, Inc. operates print centers in Worcester, MA and Howell, MI to create and mail documents to more than 6,000 agency locations and their customers around the country. As a leading casualty insurance provider, Hanover prints policies and transactional documents such as bills, checks and endorsements for agents and customers. Personal line documents are usually then mailed directly to the insured while commercial line documents are mailed to agents for distribution. A typical day sees the printing of approximately 1,200 print jobs with more than 500,000 images, so they staff their operations 20 hours a day, six days a week.
In 2015, when the lease was about to terminate on their printing hardware, The Hanover took a clean sheet approach to their operations. The main challenge was that their current system didn't create documents until data was processed by controllers on the printers and applied to stored templates. This meant that document production could not easily be redirected in the case of a disaster or work overflow. All documents requiring digital archiving needed to be printed first, then scanned and stored. The paper would be discarded.
"It was clear there was a better way," explains Joe Kalinowski, Manager of Intelligent Document Management, at The Hanover. "We knew we needed to change our current workflows and brainstormed what we wanted our process to be in a perfect world."
In reviewing new vendors, The Hanover outlined a system that could:
Readily redirect production to an alternate site in case of a disaster or overflow
Flexibly change logos, insert forms, add barcodes, etc.
Reliably insert and validate addresses
Automatically combine documents by recipient address and group print
Easily search policies/jobs to pull or hold for review/updates prior to printing
The solution The Hanover chose in 2016 was RSA's QDirect for production management, M.I.S. Print for transforming legacy mainframe data into PostScript and PDF Pro for creating shareable and archivable versions of every document.
Automated householding increases efficiency and cost savings.
"
Our RSA technician is fantastic. She talks our language. When I describe what we're trying to achieve she gets it and is already working out a solution.
The Hanover provides Commercial Lines agents with policies for their customers and additional interests. In the past, The Hanover printed these documents six days a week, but held the materials for two days so that all of an agent's documents could be manually batched and shipped together. The Hanover mailed to the agents three times each week. The print shop used more than 5,000 sort bins holding agent materials by code or address and then manually packaged all materials for each agent and sent them. "Today, QDirect holds jobs until the day before we want to mail," explains Kalinowski. "Then the system automatically merges all available jobs and "households" them by mailing location and agent code. Packages are automatically assembled and stapled as they print: agent copy, insured copy, and additional interests copy. Everything is printed in stacks based on how it will be sent; letters, flats, priority and packages over 200 sheets. We have eliminated the manual sorting and stapling of these packages and have automated the letter and flat class mail."
One of the jobs requires an agent card that is manually glued onto a cover sheet. QDirect systematically reads the agent phone number for each policy and pulls the appropriate logo from a central server and automatically populates the agent contact card.
This bulk slotting, packaging and document customization used to all be manual. With QDirect, three employees are now freed up for other tasks.
"Householding" for a better customer experience.
The Hanover regularly mails Explanations of Benefits (EOB). The EOBs are received as individual PDFs from a third-party vendor that need to be sent to the policyholders and service providers. QDirect reads the addresses on all of the PDFs and "households" them by mailing address. In addition, it automatically makes an additional copy of each PDF and prints all documents for a recipient together so all documents for each recipient can be mailed together in one envelope. The new workflow generates significant savings and a similar process for claims checks has also resulted in considerable savings.
QDirect automates multiple system convergence to eliminate inserter matching.
A recent Hanover product rollout required assembling documents from two different systems. "Now we use QDirect to merge the files and match the documents so they can be printed together in one flow." QDirect looks for the matching criteria and automatically matches documents from different sources, validates that the correct documents are present, and prints as one package for mailing.
Enabling choice of paper or electronic documents means better customer service.
"Now we use QDirect to create PDFs of all documents that can be stored in a repository and presented in the format customers want: phone, paper, or as a download for when they need/want it. We also built the capability to shut off print for any agent or customer who requests it," Kalinowski explains.
It's all about improving productivity and quality.
The Hanover recently calculated they could create key documents for $0.004 less per image than if they sourced the printing. That's a significant annual savings. "With our current system we can do more work in-house without adding staff." With RSA solutions The Hanover has realized significant productivity improvements across their production workflows:
Significant reduction in manual pulling, sorting and slotting documents for agent mailings
Significant increase in machine insertion efficiency with longer runs and better barcoding quality
Ability to reduce staffing and take on additional work without adding staff
Using built-in notifications based on rules to automate communication of missing documents, address errors and print file problems.
© 2019 Rochester Software Associates, Inc. All brands and product names are registered trademarks of their respective companies. 8/2019
Study Quick-Look:
Application Study Industries
Solutions Used by Customer
Challenges
Manual slotting and holding of documents for agent mailings
Control over printing and postage of 3rd Party PDFs
Print and scan documents requiring digital archiving
Statistics
Staff:
46
Locations:
2
Impressions:
600K/day
Jobs:
1,200/day
Mail:
- 26,000 #10/6"x9"
- 700 priority
- 3,200 flat envelopes/day
Solutions
QDirect™
M.I.S Print™
PDF Pro™
Results
3 FTEs freed up for other tasks
$195,000 in production and postage savings/year
100% of documents available as PDFs