With so many jobs coming into your print shop not ready to print, the problem isn't having a prepress solution. It's having too many. ReadyPrint is the only solution that assures every file prints properly, works with every printer, and enables your staff to standardize on one prepress solution.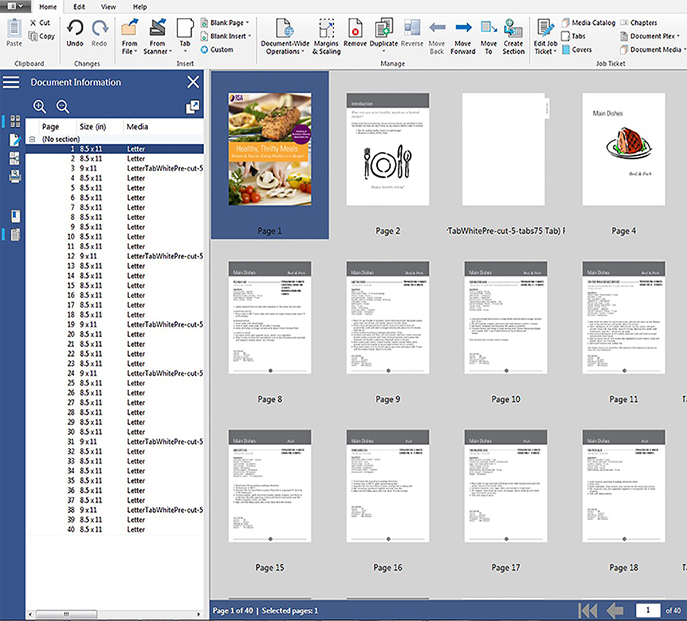 The Benefits of ReadyPrint Prepress Software
Minimize your investment and maximize your return.
Streamline job submission by automatically applying file settings and sending jobs directly to printers.
Standardize on one prepress solution- operators choose the best printer for the job.
Simplify training with one prepress tool in your print shop that works for all your production printers.
Increase flexibility and accelerate turnaround by simplifying and automating workflows.
Learn about the benefits and features in the latest release; see how it intelligently automates the production process from file receipt through production.
The Prepress Solution Designed to Meet the Needs of In-Plant and Production Print Centers
Import native file types and hardcopy scans
Edit and preview files before printing
Easily reorder, renumber, delete, and insert pages, tabs, and bleed tabs on complex jobs
Add watermarks, stamps, page numbers, headers, and footers
Add/edit color splitting and set labeling
Quickly perform page imposition changes
Clean up and enhance images
Set up and preview full job ticketing
Create PDF-based output for archiving and reprinting
Save your settings as part of the file for future reprints
Insert simple variable data values on documents like event tickets
Automate press applications for repeatable patterns and job assembly (ReadyPrint Pro)
Other Key ReadyPrint Features
Add PDF enhancement and optimization, color conversion, and printer optimization by pairing ReadyPrint Pro with RSA's integrated universal preflight module, Preflight Pro.
Add prepress automation for jobs with repeatable patterns according to rules you establish with ReadyPrint Pro Automatica™.
Streamline current processes without changing your submission infrastructure. Output to other workflow applications or directly to a printer using ReadyPrint Pro Automatica™.
Combine multiple print files into a single print job, enables editing and printing of a single job or individual document, sharing common files in multiple documents and reduces errors and the time of managing complex jobs via ReadyPrint Pro's ReadyPrint Binder™.
Supports production printers from leading vendors including: Canon/Océ, Hewlett-Packard, Kodak, Konica Minolta™, Kyocera, Ricoh, Sharp, Toshiba and Xerox (check for specific printer support availability).
Enhance Web to print (ecommerce) and multi-device workflows by seamlessly integrating with our WebCRD Web to print and QDirect output management solutions.
Purchase from RSA or RSA Business Partner
Download from Our Self-Service Portal
Self-Install on Your Windows PC
Visit the ReadyPrint Self-Service Portal (+ Free 30-Day Trial)
Create an account to download our ReadyPrint software, watch tutorials, and get software updates. Try before you buy with our 30-day free ReadyPrint trial.
Learn How Print Centers in Your Industry are Using Our Prepress Solution
Download and read case studies about businesses in your industry that have used our web to print, transform, prepress, and output management solutions to improve their in-plant or production print center.
Will ReadyPrint Solve Your Unique Print Center Challenges?
Find out how ReadyPrint can best meet the specific needs of your print center operations. Ask questions and see ReadyPrint in action in a walk-through demonstration of the software.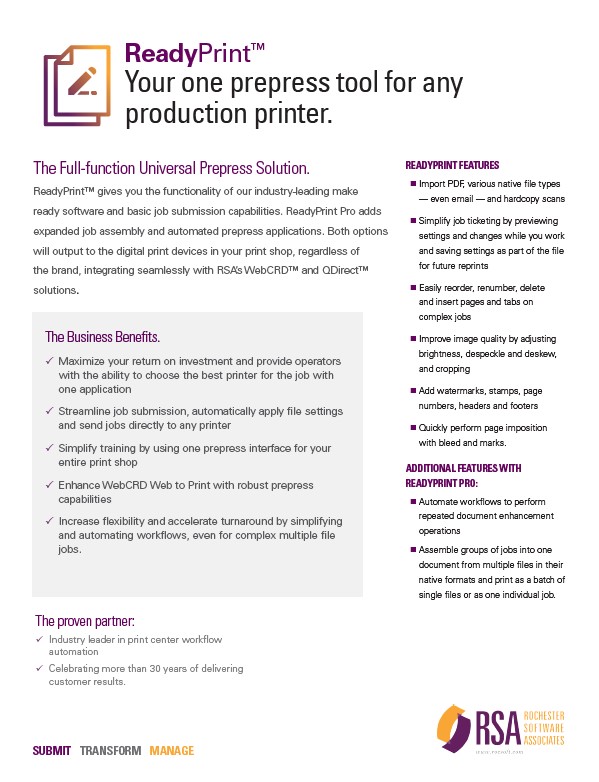 Download the ReadyPrint Brochure
Get more in-depth details, features, integrations, and specifications for this product in our downloadable PDF brochure.