Rochester Software Associates
|
October 26, 2021
The latest release of the ReadyPrint prepress suite delivers a higher automation level for in-plants and graphic arts shops. Featuring a new web-based automation engine with an improved workflow builder, it intelligently automates the production process from file receipt through production.
The suite's release also includes enhancements to the software's make ready and preflight modules, continuing to make ReadyPrint the one universal prepress solution for every production printer.
Completely Redesigned Automation Engine with ReadyPrint Pro
ReadyPrint Pro adds prepress automation and multiple document assembly capabilities to the ReadyPrint Suite. ReadyPrint Automatica automates repetitive print shop prepress tasks using a workflow builder. With a completely redesigned ReadyPrint Automatica automation engine, this release takes the suite to a new level as a key automation tool in the printing workflow. Now available as a multi-user web-based server application, Automatica further improves shop workflow, increases productivity and flexibility, and centralizes the prepress function.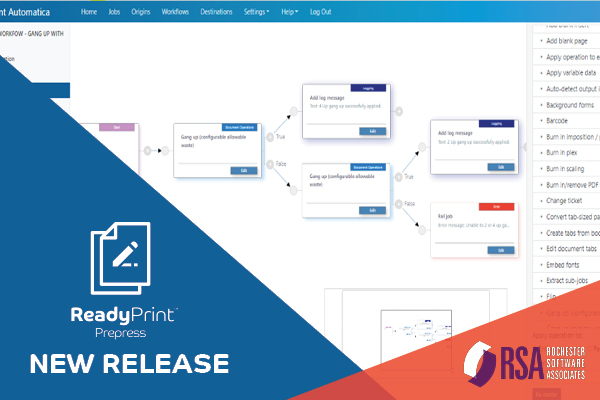 Additional new functionality includes:
A more capable and easier to use workflow builder with the ability to create complex decision processing logic. Create as many workflows as you like to automate your most common, time-consuming prepress processes.
Increase automation and eliminate the tedious process of monitoring emails and manually onboarding files with new email capabilities. Receive input files and send processed output as attachments to flow through your automation workflows.


Reduce manual steps associated with files that need different operations for only part of the job using the new burst function. For files with complex printing requirements that need different operations applied to only part of the job, burst files into sub jobs, apply different operations, and optionally merge the file back together as part of an automated workflow.
Increase efficiency and save operator time with the ability to quickly and easily combine multiple input files into a single file. Now you can start with an upstream process that feeds ReadyPrint such as business card production. Multiple cards can be automatically ganged together and imposed on to single press sheet with marks that can be printed at quantity and easily cut.


Enhancements for variable data handling and additional functions in the Automatica interface.


ReadyPrint Prepress Make Ready and Preflight Enhancements
In addition to the extensive new automation engine features, ReadyPrint's make ready and optional Preflight Pro modules have feature enhancements based on customer feedback that further streamline prepress workflow and increase efficiencies, including:
Better support for output that requires bleeds
Files created or modified in ReadyPrint can be submitted directly in to WebCRD as orders
Additional support for preflighting with new color, image, profile, and output rendering capabilities in the Preflight Pro module.
ReadyPrint Wide Format Support
ReadyPrint supports wide format in a number of ways:
Workflow to preflight and impose files for output to maximize material usage
Impositions and workflow can be configured based on document size
Output to ONYX Thrive RIP and print workflow software.
The latest version of the ReadyPrint prepress suite offers more automation in the production process from file receipt through production and improves shop productivity, further advancing its value as the one universal prepress solution for every production printer. Why not look at how ReadyPrint can be the key prepress automation tool in your print shop today?
Request a Demo to See the Rewards of Automation
See for yourself the rewards the benefits ReadyPrint prepress can deliver to your operation. Explore the options and features and discuss your needs. Request a personalized ReadyPrint demo to learn the rewards that await you.