Rochester Software Associates
|
October 26, 2021
RSA's new release of ImpactVDP variable data solution can automate data driven and transactional VDP production as a new optional module of RSA's QDirect output manager and includes enhancements like adding barcodes and more VDP template administration and management capabilities.
The new release further enhances ImpactVDP's existing ease of use and template capabilities. Learn more about ImpactVDP here.
ImpactVDP Streamlines the Production and User Experience
Offering personalized and customized items to your customers enhances and expands your offerings and provides more options for communication and promotion. Yet, a barrier in-plant print centers and small commercial shops cite to offering variable data print items is the time and resources they may require. 
The good news is that ImpactVDP, our online template design and ordering software, makes it simple to create VDP templates (and in some cases, offer pre-configured starter templates). ImpactVDP has features that make it easy for both customers and your shop to use, streamlining the entire process. And even better, ImpactVDP is included with the RSA's WebCRD in-plant Web to Print solution, and the new release opens up entry-level automated VDP composition to print for pay and commercial printers when used as module of QDirect.
New ImpactVDP Features Increase Efficiency and Value for the Shop and Your Customers
With VDP accounting for 24% of current print volume (Keypoint Intelligence, "North America Software Investment Outlook, 2021") it's important that the VDP software you use streamlines and automates production, so your shop runs efficiently and smoothly.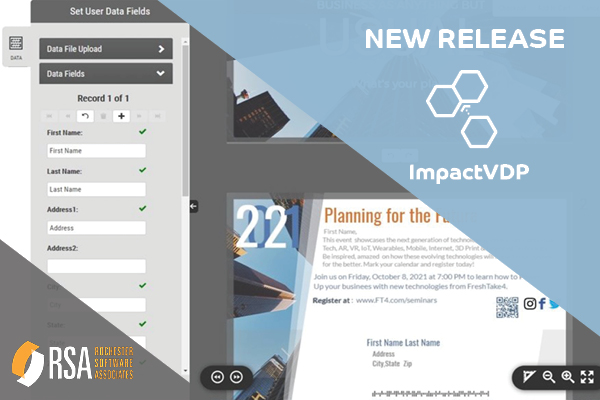 The new ImpactVDP release has several new features that increase efficiency and streamline VDP processes and workflow, including:
The ability to automate VDP production from a data feed—removing the need for human interaction- when using ImpactVDP as a module of RSA's QDirect output management software.
Variable data barcode support to add a variety of barcodes ranging from QR codes to IMB
The option for production staff to manage templates in the cloud or offline, depending on their preferences or the customer's.
 Enhancements include:
Designer and output enhancements such as hiding backgrounds for pre-printed stock and shortcuts to speed template creation
Administration console enhancements that make it easier for designers and shop staff to manage and monitor the output process, including the ability to run/monitor templates-even offline.
These new ImpactVDP features and enhancements make it faster and easier to create personalized items like brochures, business cards, certificates, post cards, posters, etc. Why not look at how ImpactVDP can benefit your shop today?
Request a Demo to See the Rewards of Automation
See for yourself the rewards the benefits ImpactVDP can deliver to your operation. Explore the options and features and discuss your needs. Request a personalized ImpactVDP demo to learn the rewards that await you.