Rochester Software Associates
|
August 16, 2021
RSA's latest WebCRD in-plant Web to Print software release includes new customer-requested features and enhancements that further reduce manual steps and errors and increase efficiency for shops and their customers. The release offers new game-changing shop and customer collaboration inside WebCRD and adds additional capabilities to the software's Book Assembly module, automation rules engine, AutoFlow™, and user account contact values.
In-plant print centers continually seek out ways to reduce costs in their shops while increasing their value and services to their customers and parent organization. Our latest WebCRD release addresses those challenges and benefits corporate and in-house print centers by automating workflow while giving the shop control, efficiency, visibility, and flexibility. 
Collaborate and Communicate with Customers Inside WebCRD with New Feature, Order Review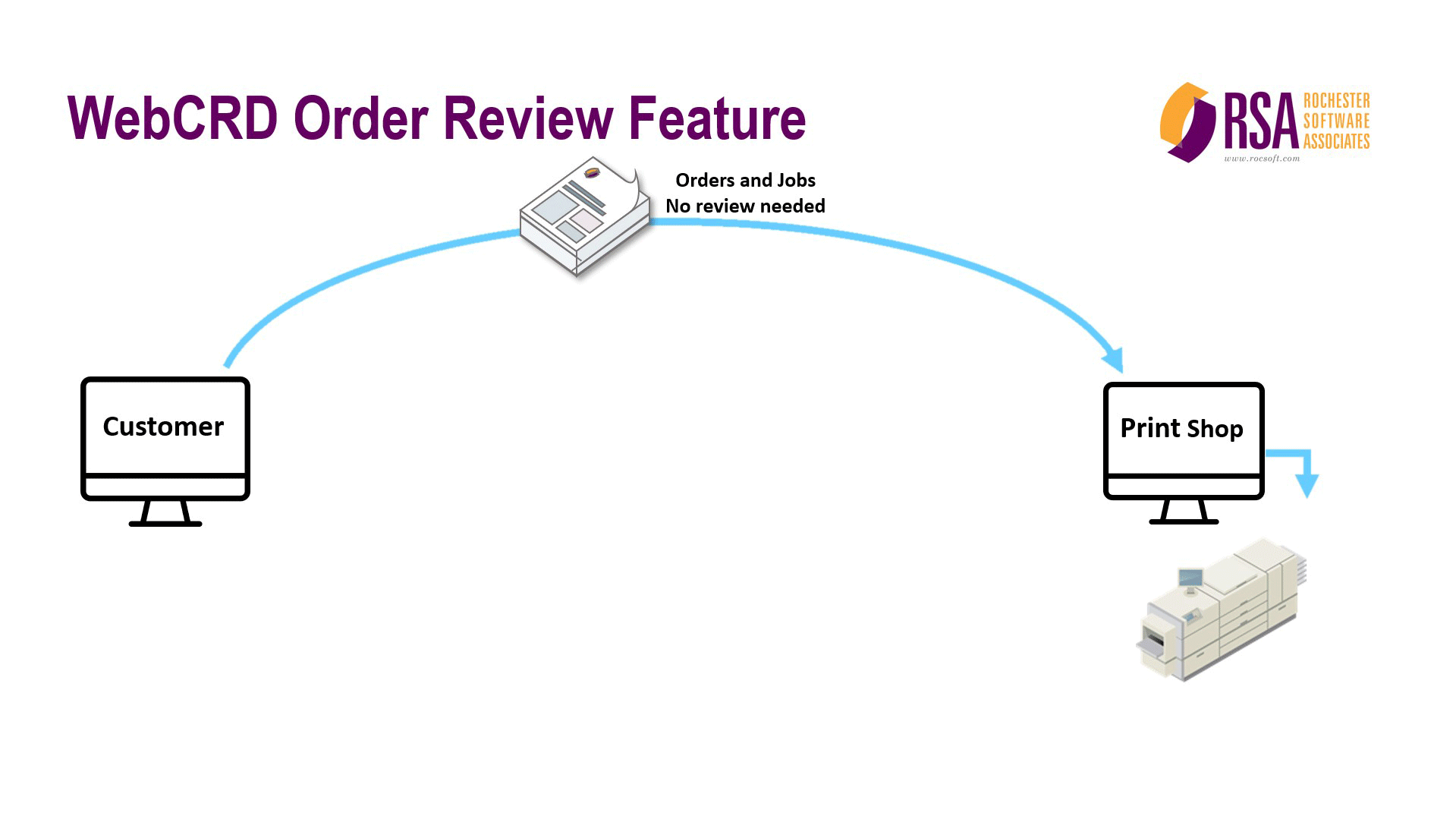 A shop may have automated a good deal of the catalog and routine orders, but there are often jobs that need time-consuming and manual attention like proofs or job changes such as adding labor or replacing a file. Reviews are also needed for ad hoc credit card orders before payment, where the exact price may change in production.  
With WebCRD's new Order Review feature customers and the print shop can collaborate on projects and changes without a need to leave the software or use other less efficient communication channels like email— while retaining an auditable and consistent record of the interactions inside WebCRD.
In fact, this new feature lets a shop effortlessly communicate and collaborate inside WebCRD for any workflow where a review process with the customer is desired such as wide format, offering graphics services, or even for special one-time job builds.


Enhancements Increase Efficiency and Value for the Shop and Customers
While our customers love WebCRD, they request enhancements to existing features and modules to reduce touches, further automate workflow, and increase efficiency for the shop and their customers. In this new release, benefits and enhancements include:  
Expand offerings by adding customized book covers and variable book sections to books in WebCRD's Book Assembly module using two of our integrated VDP solutions, ImpactVDP or WebCRD Dynamics
Automate more jobs, or identify work with low or high costs for review or alternate processing using cost criteria in WebCRD's AutoFlow™ automation rules engine
Increase shop efficiency with failure alerts for external services integrated with WebCRD. WebCRD alerts administration and production users when an external Interface is failing so staff can address, resolve, or mitigate the impact at the time the failure occurs
Ensure reporting consistency and speed customer ordering while offering by-field settings for flexibility using predetermined drop-down list choices for user account contact values.
Request a Demo to See the Rewards of Automation
See for yourself the rewards the benefits WebCRD can deliver to your operation. Explore the options and features and discuss your needs. Request a personalized WebCRD demo to learn the rewards that await you.