Overview
QDirect.SCAN, RSA's Scan to Print Center™ solution, streamlines the process for sending hardcopy originals to a print center for centralized production.  Users spend less time making copies and more time making your enterprise successful.
"
It's a time-saver all the way around, because nobody wants to just stand there in front of the copy machine when your rushing to get back to class or on your break time or at lunch. It's nice just to have it all taken care of in a matter of a few seconds.
Features
Hardcopy documents are scanned at the Multi-Function Printer (MFP).
The user selects ticketing choices using a friendly touchscreen interface on the MFP.
The scanned job and electronic ticket are sent to the Print Center.
QDirect can confirm the user's account has sufficient credit to print the job.
A confirmation page is printed directly at the user's MFP.
Jobs can be automatically printed, without any operator intervention or can be batched and released by finishing requirements, priority, or delivery location to facilitate courier delivery.
Ticketing is never re-keyed at the Print Center, eliminating touches and mistakes.
Add

 

WebCRD

 

to deliver a complete electronic and hardcopy job submission, management, reprint, and accounting solution.
Workflow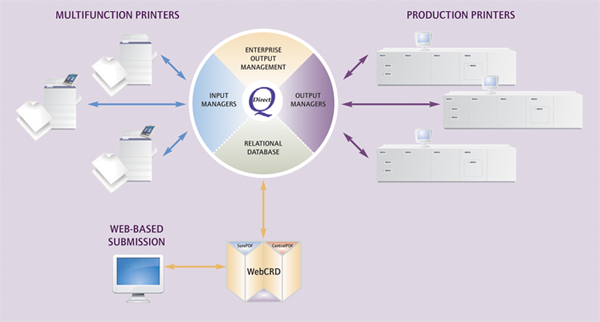 Specifications
QDirect.SCAN includes

 

QDirect, RSA's Enterprise Output Manager, and a ticketing interface that runs on supported Multi-Function Printers (MFPs).
Ticketing is entered using a familiar touchscreen interface with customizable options.
The QDirect management client is a graphical, Java-based interface that can be accessed from anywhere on the Internet.
Options include: Integration with accounting systems, Enterprise authentication (LDAP, Active Directory), Budgeting module,

 

WebCRD

 

web-based submission and reprints, and Document Management System integration.
QDirect.SCAN for eCopy is available for MFPs based on the eCopy ShareScan platform.