Home /

The VDP Opportunity for In-Plants
InfoTrends White Paper: The Variable Data Print Opportunity for In-Plants
Adding Value with Personalization
In this white paper you will learn:
What the in-plant VDP opportunity is and how you can capitalize on it
The three levels of VDP and applications of how each are used
The benefits of offering VDP and how it can save your print center and your organization time and money
Why you should invest in a VDP solution and what to look for
How integrating your VDP application with your web to print adds even more benefits
Complete the form now to read how your print center can provide your parent organization value while automating your workflow with configurable templates for versioned and variable print projects.
Looking for the companion webinar? Watch the VDP webinar.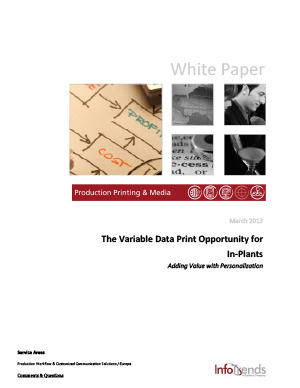 Title:
The Variable Data Print Opportunity for In-Plants: Adding Value with Personalization
---