Learn how you can automate your workflows with variable templates, capture the variable data opportunity for your in-house or corporate print center, and see the latest InfoTrends in-plant VDP data. Also hear how RSA customer Transamerica Retirement Solutions reduced manual work 85% with configurable templates using WebCRD Dynamics.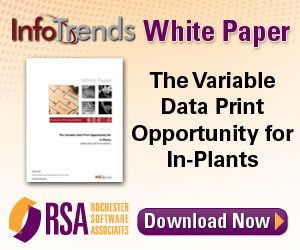 Maximize Your VDP Knowledge
Learn more about the topics covered in this webinar by downloading the companion white paper.
Also, be sure to check out these other great resources:
About this Presentation
Presented At: InfoTrends
Sponsors: Rochester Software Associates