Rochester Software Associates
|
September 19, 2022
In addition to QDirect output management's abilities to control, automate workflow, route, and manage production print output, any print facility with multiple production printers can increase efficiency and equipment utilization and reduce costs with the new QDirect software release. Available soon, advanced load balancing and job splitting increase throughput with new printer group "cluster" printing and automated job routing and splitting to the best device for the job.
See all the benefits of using QDirect output manager and the new release in a 30-minute personalized private meeting.
Increase Efficiency and Ensure Optimal Productivity with New Destination Clusters
Ensure optimal productivity by leveraging the new destination cluster feature. A destination cluster (printer group) is a group of printers that QDirect manages as a virtual single device. For example, four 100 PPM printers can be clustered to create a theoretical 400 PPM virtual device. Your investment in printing devices pays off with increased utilization, faster turnaround time and reduced labor and operating costs.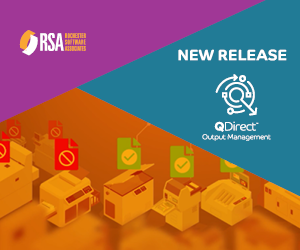 Further Optimize Printer Utilization and Costs by Load Balancing or Job Splitting to Printer Groups
Use QDirect's new load balancing and job splitting capabilities in combination with new destination clusters to run a group of printers efficiently and cost effectively:
Load balance- Submit a stream of jobs to a destination cluster where QDirect will load balance jobs between devices to ensure the workload is evenly split.
Split jobs by quantity to improve device utilization- Instead of printing to a single printer for hours while other printers are idle, use QDirect to send the same job to all the printers in the cluster at the same time and split the job quantity between printers.
Speed output of large jobs with new job splitting by pages- For large or transactional jobs, QDirect can divide the job into smaller more manageable segments by printing the job on multiple printers in the print cluster.  
Reduce costs with new color splitting- With QDirect's new color splitting ability across a printer cluster, there is no need to pay higher color click charges for a job with only a few color pages. QDirect uses auto-detection or user input to identify pages with color content and splits the color and b/w pages into two jobs.
Keep Work Secure with RSA's Built-In Security
Security is at the forefront of RSA's production workflow software solutions. We utilize the NIST cyber security framework and are compliant with trusted practices tailored to meet the security needs of the most secure industries. QDirect meets those standards, including using encryption at rest.
Request a Demo to See the Rewards of Automation
See for yourself the rewards the benefits QDirect can deliver to your operation. Explore the options and features and discuss your needs. Request a personalized QDirect demo to learn the rewards that await you.