Howie Fenton
|
October 10, 2023
As the digital revolution continues to reshape the print world, artificial intelligence (AI) has established itself as a new driver — innovating change across all businesses and all aspects of production.
In our last article in this series, we explored the potential ChatGPT offers in helping to support customer service. In this blog post, we will discuss how AI's influence extends to mail automation as well.
A recent report published by the International Data Corporation (IDC) shows that operational efficiency, customer service, and staff productivity are at the top of the list of AI goals. This is true across industries and holds up in the printing sector as well.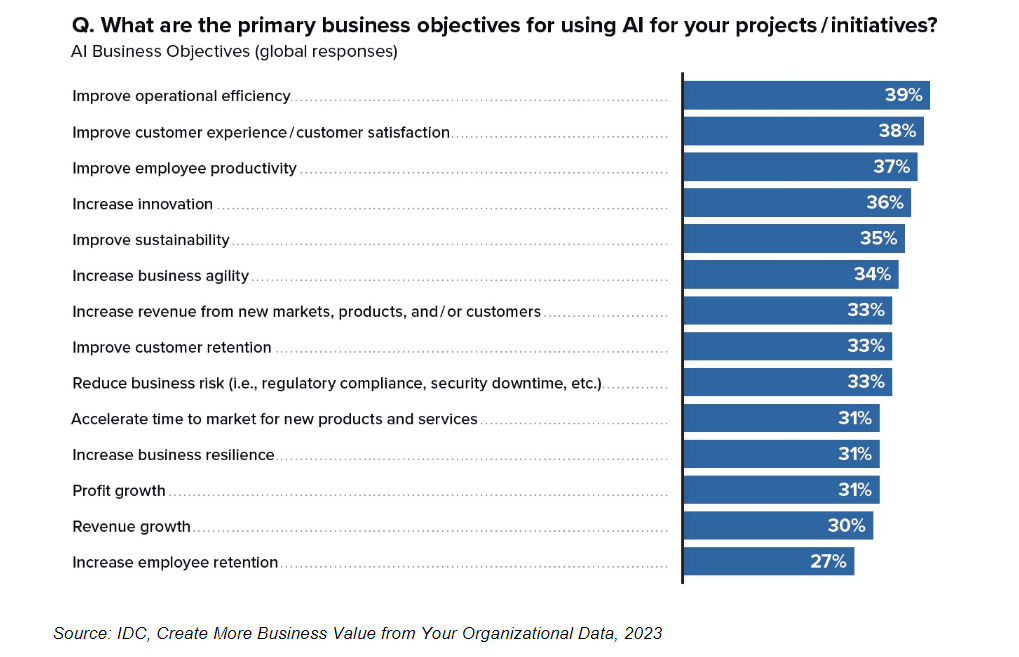 The print production steps most often discussed as bottlenecks and opportunities for improvement include estimating, customer ordering, job ticketing, and prepress. Thankfully, there are software automation tools such as RSA's WebCRD to address those needs. However, one of the steps often neglected is mailing. The goal for mailing is the same as the goal for printing services: to transition to a "lights out" manufacturing process that is fully automated.
Our inspiration for this exploration stems from RSA's new QDirect output management software features. Specifically, QDirect stands out with its ability to automate barcoding, optimizing workflow, routing, and overall management of production print output. This paves the way for in-plant and commercial printers to enjoy automated and efficient post-print production. Although not directly employing AI, the software encapsulates the productivity benefits of AI capabilities.
But before reviewing these benefits, let's start by looking into the existing and potential role of AI in mailing. 
Barcodes, Cameras, Machine Learning, Predictive Analytics, Inventory, and CRM
In mailing automation systems, barcoding stands out as an innovation ready to redefine the future. The US Postal Service (USPS) is pioneering some of these services. With AI woven into its operations, the USPS has significantly enhanced its mail processing techniques. Advanced AI algorithms now empower them to automate package identification nationwide in nearly 200 processing centers.
This is made possible by state-of-the-art cameras fitted on sorting machines. These cameras capture information ranging from standard addresses and barcodes to more niche data like hazardous materials indicators. Through machine learning models, the USPS aims to cultivate a comprehensive database of package images. This endeavor's end goal? To consistently elevate processing efficiency. 
A key highlight of AI's capabilities for mailing automation is its unmatched barcode recognition skills. In contrast to conventional systems, which solely rely on optical recognition and falter when faced with flawed or damaged barcodes, AI is leaps and bounds ahead. Thanks to detailed models, AI can interpret concealed or tarnished barcodes, ensuring scanning accuracy. AI is also equipped to validate addresses by cross-referencing them with reliable databases. This verification guarantees that every piece of mail finds its way to its rightful destination. 
Another aspect of AI is the role of predictive analytics in mail sorting and routing. By analyzing parameters such as zip codes, AI can forecast the most strategic routing or batching avenues, paving the way for substantial time and cost efficiencies. Another facet of AI's capability is its refined fraud detection mechanisms. Employing specialized algorithms, AI can identify potential discrepancies, signaling any possible misuse of postal services. 
The final promise of AI's offerings is its integration into other systems. Whether it's intertwining barcoding systems with Customer Relationship Management (CRM) platforms, integration into real-time shipping systems that send timely and accurate notifications to end users, or feeding data into inventory management processes, AI is poised to automate several processes. 
For example, within CRM systems, AI leverages barcode data to refine and personalize customer interactions, enriching customer profiles with detailed transaction and interaction data, and facilitating advanced segmentation based on individual behaviors and preferences. This enriched data integration allows for the development of predictive models — forecasting customer behaviors, purchase likelihood, and retention, and enabling more strategic, data-driven customer engagement. 
Adding Barcode Functionality 
The information to add Intelligent Mail Barcodes is freely available from two sources: 1) the USPS's Steps to Creating Intelligent Mail Barcode resource page and 2) by searching the USPS Postal Pro site. 
As discussed earlier, the impetus for discussing the role of AI in mailing came from the updates to RSA's QDirect output management software. QDirect is like a Swiss Army automation knife with many print and mail tools – including managing input sources and printers, load balancing, routing color and black-and-white jobs, and adding bar codes.   
The benefits of the latest version of QDirect include:
Easy-to-use visual barcoding functionality that lets printers dynamically add standard barcoding formats to existing documents.

 

Improved CCM operations, such as automated mailing insertion, increased accuracy, and better job tracking. 

 

New efficiencies for post-print production, such as controlled cutting, folding and other finishing activities, the use of barcodes to eliminate steps, and increased throughput.

 

Flexible late-stage switching between barcoding schemas used by different hardware, without constraints caused by outdated or proprietary barcodes added in the original document composition.

 
And that's all a big step into the future we're starting to see for mailing automation. 
Learn How AI Is Changing Mail Production Services and What That Means for Printers
What new possibilities does artificial intelligence promise for the future of the printing production lifecycle, including last-mile capabilities such as mailing automation?