Elisha Kasinskas
|
January 29, 2018
This is the first article in our "Production Print Workflow Education Series." The series provides information for dealers, reps and owners, and print equipment vendors to understand production print, production print workflow, the benefits to you and how to sell it.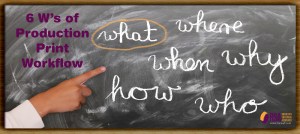 Our last education series, "In-Plant Primer: From Operations Basics to Advanced Sales Concepts" covered in-plant print centers (a major segment in production print). Now we have topics planned to educate you about production print workflow, starting with the "The 6 'W's' of Production Print Workflow." In the coming months we'll discuss the what, who, why, where, when and how's of production print.
Our first article focuses on the "What" of production print- what it is and why you should care about it.
Don't Miss Any Articles in the Series
Subscribe to RSA's partner/vendor email updates and well automatically alert you as each article is published.
What is Production Print, and Why Should Dealers Care?
We may live in a digital world, but that doesn't mean we have moved on from using paper. While we've seen a decline in the number of pages printed by back office workers — largely due to automated, paperless software — businesses still rely on paper to communicate with customers or as a part of their marketing and billing processes. And often, such print jobs require much more than what your customer's high-speed office MFPs can offer. Businesses require smart and powerful production printers that print high-quality output in short periods of time. They also need workflow automation and print management solutions to optimize business processes and keep costs low.
Production printers are built to accommodate a high volume of long- and short-run print jobs. There are color and monochrome models, with some models using inkjet technology, while others use toner. Typically, these devices can print anywhere between 70 and 600 pages per minute and offer long lasting consumables and high-capacity paper drawers to maximize uptime.
Today's universe of production printers leverages digital technology to reduce costs and improve productivity. For example, with a digital production printer, businesses don't need a team of experts to run tests and setup the job or buy a high volume of consumables like film plates, chemicals, tools, and so on. Digital production printers also help businesses be nimbler, as they can make last minute changes before printing and meet tight deadlines.
And with a wide range of complementary print management and workflow automation tools available on the market, businesses can maximize their uptime and minimize costs while optimizing their production printing processes. For example, some solutions enable businesses to automate core print processes, like ordering and fulfillment, job ticketing and chargebacks, while others facilitate web submission, prepress and make ready processes. Some output managers can even decide where, when and how jobs should be distributed and printed.
Production print covers a wide variety of applications that vary by vertical markets. Some of it is high volume transactional print jobs such as bills and statements. Others may be more graphic arts oriented such as sales and marketing materials, forms and variable data jobs. Businesses require reliable production units that can help them print and distribute large quantities of professional-looking output as quickly as possible, at the lowest cost possible.
Most production printers — 75 percent of the 19,000 total in-plant printers — handle graphic arts printing, while only a quarter manage transactional prints. And given how fast businesses are adopting automation, and the public's growing taste for digital billing and self-service, you can expect production print usage to skew even further toward advertising, marketing, sales presentations and other similar purposes.
Four Reasons to Pay Attention to Production Print
Dealers have several good reasons to pay attention to production print:
Production printers can sell for between five and seven figures-- plenty of room for margin.
Production printers present dealers with bountiful monthly recurring revenue opportunities, be it in the form of service contracts and/or by replacing the large quantities of consumables these machines use daily.
The workflow software needed to move jobs efficiently in a print shop is a "sticky" sale and offers its own revenue stream, including maintenance and software upgrades and additional modules. Plus, selling production print may enable you to handle all of a business's print.
Dealers have a great opportunity to go out and secure new business because technological advances have eliminated a lot of the barriers that prevented many businesses from bringing their production print processes in house.
With the combination of declining prints in the office thanks to automated, paperless software, and technological innovation in the digital production print space, more businesses will be able to bring their production printing needs in house. It's up to dealers to educate their customers about these opportunities, to help them grow their business, as well as your own.
In our next "The 6 'W's' of Production Print Workflow" article we'll talk about who produces production print.
Contact RSA's Production Print Experts Today to Learn More
Whether you are an independent dealer or working for or with any of our production print partners, we're here to help you be successful in production print. Contact your local RSA Business Development Manager for training, to learn more about production workflow, work with in-plants, and help your customers meet their goals.