Elisha Kasinskas
|
February 22, 2018
Part of the "Production Print Workflow Education Series." Information for dealers, reps and owners, and print equipment vendors to understand production print, production print workflow, the benefits to you and how to sell it.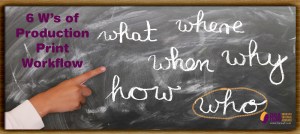 This is the second article in "The 6 'W's' of Production Print Workflow." Our first article focused on the "What" of production print– what it is and why you should care about it. Now that we know what production printers are and what they're used for, it's time to get acquainted with the different kinds of organizations that rely on production print.
Don't Miss Any Articles in the Series
Subscribe to RSA's partner/vendor email updates and well automatically alert you as each article is published.
Production Print in Education
Whether it's your local school district or one of the surrounding trade schools, colleges, universities, or any other institution of higher learning, one thing they all have in common is that they print a lot. Every semester, instructors print hundreds — and in some of the larger institutions, thousands — of syllabi, handouts, quizzes, tests, and other materials for each of their different classes.
But that's just the tip of the iceberg. The real gold mine is behind the scenes in the administrative side of education.
Various departments require transactional production print solutions and workflow that can handle large volumes of acceptance/denial letters, enrollment, tuition, FAFSA, financial aid and scholarship documents. Colleges and universities also compete for students and that marketing typically requires in-house graphic arts production print solutions to help create bright and vibrant recruitment and fundraising materials, posters, banners and promotional schedules for events, and more.
See RSA's production print workflow solutions for education.
Financial Services Production Print
Slowly but surely, the financial services sector has reduced their paper-based processes, replacing them with digital alternatives. Even so, financial services providers still rely on print for creating invoices, loan applications, statements and marketing and sales materials. Between security considerations, compliance requirements, high-costs and too many manual processes, this can be quite burdensome for financial services providers to handle on their own.
But from the dealer's perspective, these are great opportunities to build on existing accounts or to bring in new business. Equipped with the right combination of secure and reliable, low-cost production print solutions — such as user authentication, on-demand job submission, variable data printing and intelligent job routing capabilities, plus granular job tracking and cost recovery solutions — dealers can help financial services providers automate processes and reduce costs.
RSA offers highly secure workflow solutions for financial services in some of the largest financial services firms in the US.
Production Print in Government
Governments will probably be one of the last modern institutions in the world to abandon print. Despite an array of digital alternatives, paper has been and still is the government's preferred medium for communicating and transacting with citizens. On top of that, just about anything you do at a government office involves filling out at least one form, which means even more paper.
Depending on size, governments can easily exceed print volumes of one million pages a month, which can be quite costly. But for dealers and those that sell production print, this is an opportunity to help governments reduce costs while providing better public services. With a focus on automation, you can help governments eliminate manual processes and get more done with fewer resources.
Read how RSA has enabled millions in savings for some of our government customers.
Healthcare Production Print Applications
Healthcare entities– both providers and payors (insurers) have large volumes of transactional work including estimation of benefits (EOBS), lab results, provider directories and ID cards. They also have needs for marketing materials, stationery for staff (business cards, letterhead), patient education materials, and more. Similar to finance and insurance, these firms have specific compliance and security needs (HIPAA and others). For a recent example, listen to this webinar about a large Healthcare provider and how they've added Web to print to increase efficiency and control the brand. See how they are bringing more of their print jobs in house to save money.
Service Bureaus
Service bureaus provide print to those who don't want or need to invest in their own in-plant department but still need someone to manage their production print and mailing processes. For example, some organizations have seasonal needs or bill quarterly, so instead of dedicating space for a production unit that will sit idle for most of the year, they use a service bureau. Service bureaus will have a large spectrum of requirements, considering their diverse customer-base with equally diverse needs.
Needs May Vary, but Print Remains
There is a wide spectrum of businesses in many vertical markets that have their own in-plant or corporate print center for a variety of reasons. But what a company does to make money and why they choose to handle their production print processes in-house aren't always mutually exclusive. Some businesses prefer to have an in-plant to give their marketing department more control over their printed materials, while others might handle some sensitive data that can't be trusted with a third-party.
Ultimately, many of your existing or prospective customers can benefit from their own production print solutions. It's up to you to point them out.
In our next "The 6 'W's' of Production Print Workflow" article we'll talk about why production print is important for dealers and equipment vendors.
Not Sure Where to Start?
Contact your local RSA Business Development Manager to learn more about production workflow, the solutions needed in specific vertical markets, and how to meet the needs of transactional and graphic arts production print centers.