Elisha Kasinskas
|
May 25, 2018
Article five of our "The 6 'W's' of Production Print Workflow" series, focusing on the who, what, why, where, when and how's of production print and part of our "Production Print Workflow Education Series" to understand Production Print Workflow.
In some of our previous "Six W's of Production Print" series, we learned about the different kinds of organizations that can benefit from their own production print solutions, what kind of problems they can solve, and where dealers should look for sales opportunities in the production print space. Indeed, the dealer who knows precisely what to look for and where to find it is well on their way to a successful venture in the production printing space. But knowing where to look and what to say is only part of the equation for converting more sales. You also need to know when it's a good time to talk.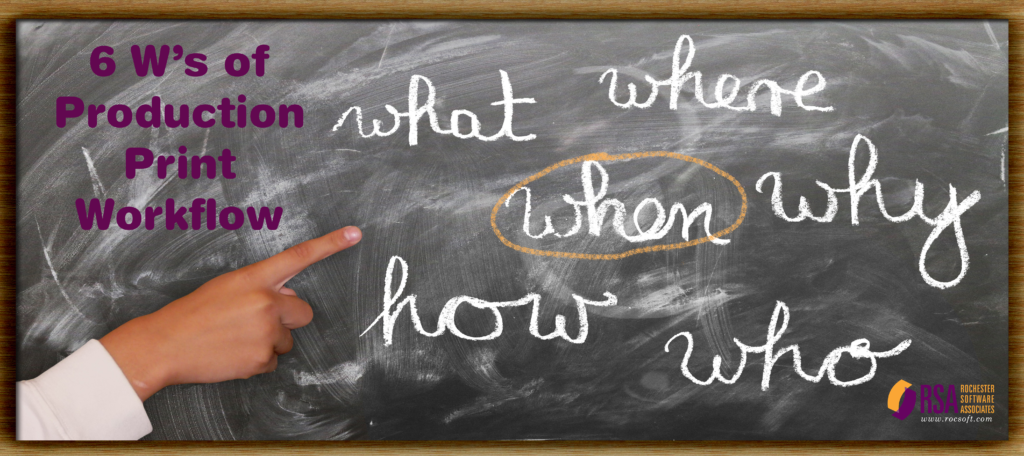 So, when is the best time to talk to customers about production print? The short answer is, always. Don't limit your conversations to just when equipment is up for a lease renewal.  Frequently interacting with customers and maintaining an ongoing conversation about workflows and solutions helps to build a strong bond while learning more about their problems. Based on the rocks you turn over throughout the course of a yearlong dialogue, you might be able to find a way to use something like a Web to print workflow solution as a means to justify the purchase of a new printer and/or increased print volumes.
But there is a long answer, too. And it has a lot to do with context. Let's explore:
Working the Fiscal Calendar
Every business is different — even the ones that do the same exact thing. Any two insurance companies located in the same area and playing in the same space, for example, could operate on different fiscal calendars. It is important to learn about your customers' fiscal calendars because this critical information is key in developing a strategy for when it's best to push the conversation with specific customers.
In particular, one good time to consider is near the end of your customer's fiscal year. When companies are at the end of their fiscal calendar — which isn't always at the end of the calendar year — they often have leftover funds that need to be used. Since customers are likely to lose any unspent portions of the budget in the following year, they are eager to spend that money come year-end, which can translate to more sales. So, for example, if your customer's in-plant department has some cash to burn, it might be wise to talk about upgrading or expanding their fleet or adding a module to their workflow software.
The beginning of a customer's fiscal year is also a great time for dealers to engage customers. During this time, budgets are still being formed, which gives sales reps an opportunity to influence decision makers to advocate for space in the budget for your project. For example, you might learn through your ongoing discussion with one of your manufacturing customers that they spent a lot of money outsourcing their owners manuals. You could come back later when they are creating their budget and mention how an investment in some workflow automation software and a production printer can help them cut their outsourcing costs.
Don't limit your conversations to just budget discussions. Ask your customer about their parent organization's goals and initiatives for the new year. Ask what the in-plant or print production department's goals and key measures are for the year.  You may find that solutions you offer could play a part in helping the customer meet their goals.
Seasonal Demand
When to talk to your customers also has to do with the kind of business they run. For many businesses, demand varies with the season, and can affect when a company is more willing or needs to make a purchase. Think tax season for accountants or the school calendar for education.
Take retailers, for example, who see a huge surge in demand in the holiday season. To prepare for their busy season, they will want to ramp up their marketing efforts. Dealers can capitalize on this by bringing up how affordable production print and workflow solutions can help them outshine their competitors.
While timing might not be everything when it comes to selling production printer solutions, but as with many things in life, it's pretty darn important. And as such, it is very important for dealers to know the inner workings of their customers and use it to their advantage to discuss the right things at the right times.
In our next "The 6 'W's' of Production Print Workflow" article we'll talk about the final "W" - workflow.
Strategize With RSA
Contact your local RSA Business Development Manager to strategize when the best production print opportunities are in your area.