Elisha Kasinskas
|
April 18, 2018
Article four of our "The 6 'W's' of Production Print Workflow" series, focusing on the who, what, why, where, when and how's of production print and part of our "Production Print Workflow Education Series" to understand Production Print Workflow.
Article four of our 'The 6 'W's' of Production Print Workflow" series, focusing on the who, what, why, where, when and how's of production print and part of our "Production Print Workflow Education Series" to understand Production Print Workflow.
In the last installment of our "The 6 'W's' of Production Print Workflow" series, we discussed production print and how it is an excellent growth opportunity for office equipment dealers. Today, we're going to focus on where office equipment dealers and resellers should look to find these opportunities.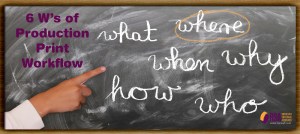 You may remember from our first two blogs that there are a wide variety of businesses that employ their own in-plant printing departments to handle their production printing processes internally. Obviously, some businesses are going to need their own in-plant print center more than others. But in general, what a company does to make money will dictate their production print needs. If you want to be successful in the production print space, it is helpful to know where and how those needs are distributed.
Where are some places that dealers can find opportunity in the production print space?
Start Right Under Your Nose
First and foremost, dealers should look at their existing clients to identify any possible production print opportunities that may exist there. Not all your clients are going to be in an industry with a high demand for their own in-house or corporate print center. When you consider all the innovations in the production print space that have made it possible for more businesses to access their own high-volume, professional-quality output solutions, you'd be remiss not to explore your existing customers' needs.
Your customers are your low-hanging fruit because you have already established a good relationship with them and proven that you can add value to their business. Dealers can look to integrate production print into existing contracts, which helps them beat their competitors on the price tag while simultaneously making themselves even more indispensable by embedding themselves even further into their customers' technology infrastructure.
Dealers that are offering RSA's solutions find them especially relevant in mixed shops (RSA solutions print to any production printer). Specifically, if you have customers struggling to get print-ready jobs into their shop or increase their awareness, Web to Print and RSA's prepress software are great ways to meet those needs.
Follow the Pages
Dealers and resellers can also find success by looking at what businesses are printing, so they can determine who might benefit from having their own production print solutions.
According to "Trends and Services in the In-plant Industry," a RISO-funded research report from In-plant Graphics, printing of posters, flyers, banners, signs, and especially window clings and floor graphics has proliferated considerably over the last two years.
This is a signal that businesses aren't afraid to spend on their marketing departments and that businesses still believe that paper can be a big part of their communications strategy. Dealers should target marketing departments from businesses in any industry, as well as local retailers and other brick-and-mortar businesses. In both cases, dealers can help businesses gain complete control over creating and distributing their messages. Rather than relying on costly contractors, businesses can create personable communications, and be nimbler in distributing that message.
And there are always the usual suspects:
Schools and Government
No matter where you go, you're likely to find schools and government buildings. Every dealer will have at least one of these two institutions in their territory. These entities print a lot. As we noted in our second blog, "Meet the producers of production print," both government institutions and schools are heavily reliant on production printing solutions for billing/collecting taxes, communicating confidential information with students/citizens, and printing forms.
Healthcare and Insurance Providers
For healthcare and insurance providers, paper is an important, often mandated medium for communicating private patient and billing information. But where healthcare and insurance providers might see a problem, dealers and resellers see opportunity.
Today's digital production printers can help healthcare and healthcare providers and payers reduce print costs; those savings can be reinvested into providing patients with better quality healthcare at a lower cost.
Service Bureaus
Where your typical customer only requires what's necessary to handle the production print volumes of a single company, service bureaus need to keep up with the demand of all their customers' print needs. Obviously, given the potential monthly volumes, these accounts can be quite lucrative.
You don't have to look far to find opportunities in production print. Whether it's a small retailer, or the marketing department at some multinational conglomerate, the demand for fast, affordable and always-ready production is high.
Based on what we know businesses and organizations are printing, it would be wise for dealers and resellers to explore production print opportunities with their existing customers as well as local retailers and brick-and-mortar businesses. In addition to targeting marketing companies at any business that will listen to them, dealers can also find great success with the same old suspects: schools, government institutions, healthcare providers, insurance companies and service bureaus.
In our next "The 6 'W's' of Production Print Workflow" article we'll talk about when the best time is for dealers and equipment vendors to sell production workflow.
Contact Your RSA Business Development Manager
Want to learn more about what's happening in production print workflow? Contact your local RSA Business Development Manager.