Howie Fenton
|
February 27, 2017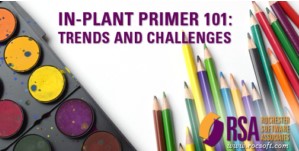 This in-plant primer article is the second article in a series of 12 articles designed to help dealers and print vendors understand in-plants called "In-Plant Primer: From Operations Basics to Advanced Sales Concepts." Divided into two primers of basic (101) and advanced (201) topics, this article is the second the first six articles in the basic primer, "In-Plant Primer 101: Trends and Challenges." Watch for the primer as a convenient eBook soon and our second primer and eBook, "In-Plant Primer 201: Operational and Financial Concerns" later this year. 
In our first article we defined what an in-plant is and talked about the different types of in-plants. In this article, we'll discuss the some overall challenges and the top in-plant issue- cutting costs.
Key Take Aways
Many in-plant printers are small and struggling to reduce their manufacturing costs to meet their financial obligations as the demand for traditional products declines.
Manufacturing costs have driven many companies to consider outsourcing, which has forced in-plants to make streamlining production a critical success factor.
This trend is fueled by an influx of companies offering to procure the in-plant products for less (outsource) or manage the facility (facilities management) for less.
Using software automation to reduce manufacturing costs has become a critical issue for in-plants to help them reduce costs.
Overall Trends and Challenges
In-plants were the first to embrace digital printing while their commercial printer cousins were slow to adopt the technology. In 1990, Xerox introduced the first DocuTech and in-plants were among the first adopters. Continuous-feed black-and-white digital printing has an even longer history, starting with the introduction of IBM 3800 printers in 1976. As a result, many in-plants take great pride in their experience with digital printing.
One of the challenges for in-plants is the overall decline in print demand resulting in the inability to meet financial objectives, which may mean breaking even financially or making a profit (in our 201 Primer we discuss different financial models).
Only a relatively small portion of in-plants are experiencing increasing demand and growth as their parent company grows and adds more staff, or due to offering new services (i.e. color printing, wide format graphics, variable data, etc.). In the late 1990s, the overall US printing market was estimated at $100B in overall sales. This declined to approximately $80B in the year 2000 and has been slowly increasing to an $82.5B in 2016, according to Andy Paparozzi, the Chief Economist at Idealliance.
Comparing and Contrasting In-plants to Commercial Printers
In terms of production strategies, in-plants face the same challenges as their commercial counterparts. They struggle with:
Staffing issues - shortage of staff or a need to cost justify the number of staff
Inefficient processes- manual production steps including estimating, writing job tickets, manual prepress, press step up, finishing, and mailing processes
Peaks and valleys in demand.
Comparing and contrasting commercial printers and in-plant printers we can see similarities and differences. In terms of operations both perform the same basic functions: estimating, customer service, prepress, printing, and finishing. In other ways they are very different. In addition to the different financial models of in-plants and commercial printers, there are also differences in focus, what is considered most important, motivation for investing, and bottlenecks.

#1 Issue: Cutting Costs
Based on our experience, the "typical" in-plant staffs between 10 to 15 people, provides services valued between $3 -$5 million/year, and struggles to meet their financial objectives. One issue in particular is the responsibility for meeting their financial objectives: how much they charge (price) compared to how much it costs to manufacture (make). The obvious question is why not charge more when you are not meeting financial objectives? The answer is that the in-plants must remain competitive with external prices to keep the threat of outsourcing at bay.
If increasing prices is not an option another solution is to reduce manufacturing costs. Unfortunately, many of the costs in print production are fixed such as paper, equipment, software, supplies, overhead, etc. One that is not fixed is labor time.
Save Labor Costs with In-line Finishing and Web to Print
We estimate that most in-plants spend between 1-3 hours of labor for an average job with more time spent in the front end of the process (estimating, customer service, scheduling, writing job tickets, preflighting, and correcting files) than the back end of the process (finishing, shipping, and mailing). Typically, labor makes up about 1/3 of the total cost of manufacturing. As a result, to see noticeable reductions in cost due to greater efficiencies in labor requires significant increases in productivity-- something along the lines of a 50% increase in productivity. Two technologies that can provide significant productivity increases are in-line finishing and Web to print software. In a recent assignment, we calculated that a staff of 2.5 people could save 205 hours a year with an estimated value of $67,000 by adding in-line finishing capabilities and save 347 hours a year - a value of $107K with the Web to print solution. The combined savings of almost $175,000 resulted in a six-month payback (ROI).
Summary
In summary, the vast majority of in-plants are small, are experiencing declines in work and are struggling to meet their financial obligations. As mentioned earlier, the inability to meet financial obligations is one of the greatest threats in-plants face because it can motivate research into facilities management and outsourcing services. Therefore, in plants must constantly monitor competitive prices and find ways to reduce manufacturing costs. Software workflow automation holds the potential to cut costs and ensure cost competitiveness.
In our next article, we'll talk about who the typical in-plant contacts are, why size matters and how they are staffed differently than commercial printers.
Learn More About In-plant Issues With RSA's Primers and Resources
Want to learn more about in-plant print centers? Login to your RSA partner portal to download our two in-plant primers.
Visit RSA's resources, packed with in-plant information and follow up the in-plant experts at RSA.