Howie Fenton
|
April 24, 2017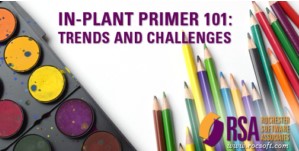 This in-plant primer article is the fourth article in a series of 12 articles designed to help dealers and print vendors understand in-plants called "In-Plant Primer: From Operations Basics to Advanced Sales Concepts."
In earlier articles we defined in-plants and discussed different types, covered the top challenges and issues and shared the typical contacts to engage in workflow conversations.
Key Take Aways
Inkjet production presses are the most significant recent hardware change, but until just recently the investment cost has limited acquisitions to larger in-plants.
Recently, less expensive inkjet devices have become available making them more affordable for in-plants.
Originally, software automation tools offered unique functionality, more recently however, additional functionality has created overlaps.
SaaS (software as a service) is a software licensing and delivery model that makes software more affordable.
The Impact of Inkjet and SaaS
The most significant hardware changes in the last five years are from inkjet presses and the most significant software changes are associated with automation tools and a new delivery option which is known as "software as a service" or SaaS models. High-speed color production inkjet printing has been growing steadily since 2008. Until recently, however, most of these presses have been very expensive with price tags in the millions. As a result, investments in inkjet production printing have been limited to larger in-plants that focus on transactional documents. Fortunately, a new generation of less expensive inkjet devices are coming to market at lower price points which will allow more in-plants to afford the investment.
The Big 3 Software Automation Tools
There are three categories of software automation: Web to print solutions, Print MIS systems, and prepress PDF workflow software.  Originally these three software packages offered unique functionality. Web to print was only used to place orders, print MIS software created estimates, job tickets, schedules and invoicing, and prepress PDF software provided preflight, trapping, and imposition. The functionality of all three are starting to merge. For example, estimates and job ordering preflight, scheduling and invoicing may start with a Web to print solution. In addition, a trend for software providers is offering software as a service models. SaaS is a software licensing and delivery model in which software is licensed on a subscription basis and is centrally hosted. Sometimes referred to as "on-demand software" or a cloud-based offering, it does not require software installation on a company's server, upgrades to the server, or server maintenance, therefore reducing capital investments. Accessible from any device with an Internet connection, SaaS or cloud based models allow greater access to any device with a web browser, such as computers, tablets and smart phones. Offering software as a service models (SaaS) is helping to reduce capital investment costs for a wide variety of software solutions including file back-up services, Web to print, Print MIS, and PDF prepress software.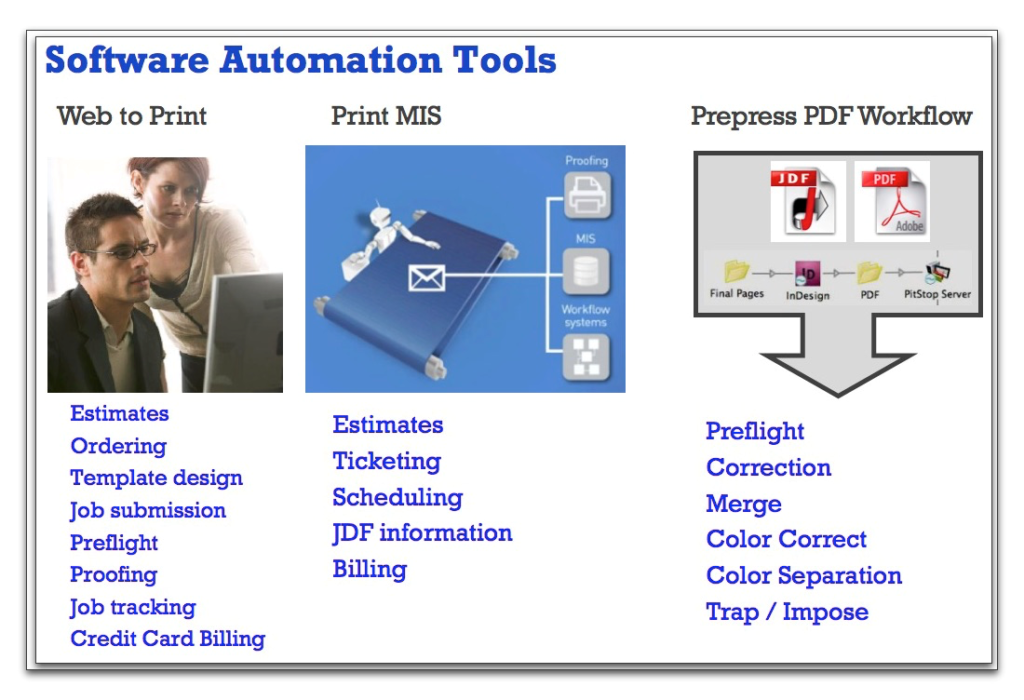 Summary
In the last few years inkjet production presses have been adopted primarily by transactional printers because of their price and their footprint (size requirements). However, next generation devices are coming to market that are less expensive with smaller footprints and are likely be adopted by graphic arts in-plants. Software automation is critical to maintaining competitive pricing. A software trend today is to deliver and update using software as a service models (SaaS), which costs less for the software manufacturer, allowing them to offer more features for the same price. In our next primer article, I'll talk about in-plant industry trends.  
Learn More About In-plant Issues With RSA's Primers and Resources
Want to learn more about in-plant print centers? Login to your RSA partner portal to download our two in-plant primers.
Visit RSA's resources, packed with in-plant information and follow up the in-plant experts at RSA.