Elisha Kasinskas
|
July 03, 2013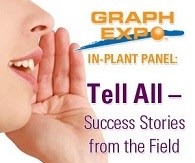 Last year's top In-plant panel at Graph Expo was so well received that there will be an in-plant panel session at the show again this year. Titled "In-Plant Panel: Success Stories from the Field," I'm happy to announce the members of this year's panel, and pleased to have the honor of moderating again.
The panelists chosen for the In-plant panel are:
Tom Rorhbach, Progressive Insurance Company. Tom is IT Systems Engineer Consultant, supporting the transactional and creative organizations. He works with technology for the teams he supports and at an enterprise level to ensure fit with the overall architecture for this top 10 insurer. Tom has played a key role in evolving transactional print and mail from a manually intensive process to a fully automated ADF.
Abbas Badani, Penn State. Abbas is Director of the Penn State Mail, Print, and Copy Services operation. The 50 member team provides offset printing, digital printing, bulk mail services and fleet copy management for the institution.
Mike Lincoln, State of Colorado IDS. The 4th largest Government in-plant in the US, this print center was the only state government in-plant to win an innovation award from USPS and is known for a "quality first" philosophy. The in-plant is an integrated print and mail operation, including a secure document storage facility and a secure printing room.  The operation prints over 85 million impressions and mails about 2.5 million pieces monthly.
Garry Boytos, The University of Texas Health Science Center at San Antonio (UTHSCSA). Setting themselves apart for the 3,000 students who train annually to support the 100+ affiliated hospitals, clinics and health care facilities in South Texas, the print center has become a strategic asset, increased sales while providing cost reductions and offered smart marketing techniques, while increasing producing by over 50% in some instances.
Join me and these top in-plants in Insurance, Higher Education, Government and Healthcare from around the US to learn: their secrets of success, hear the valuable lessons they've learned, see what they see in the future, how they've become a strategic asset for their parent organizations, and offer.
Register Today and Watch this Blog for Stories About Each Panelist
Watch RSA's In-plant Insights blog for in-depth stories about each of the panelists and their operations in coming weeks. These stories will offer a sneak peek at what sets these in-plants apart, and the information they will share in the session.