Elisha Kasinskas
|
January 04, 2015
Learning from what did not work is a critical skill for any manager. Part of the "War Stories, Wise Ideas and Q&A" in-plant panel session at GRAPH EXPO, this is the eighth of an 11-article video series covering key takeaways from the 10 topics the panel covered.
What Didn't Work for Three In-Plant Managers
Motivate Vendors to Engage in Your Productivity & Assist with Aging Equipment
Three in-plant print center leaders offer their stories of what did not work in their print centers, and their hindsight for avoiding the issues they experienced. Listen to learn how:
Tim Smith, State of Wisconsin P&D, had hand piece packet fulfillment work that the operation was not able to execute well
Ron Balderson, Navy Federal Credit Union, underestimated collating and saddle stitching volume and his shop could not handle the volume
Staci Hill, Freese and Nichols, purchased a UV coater that was too small, but has a tip to help others
Watch as these in-house managers discuss what "didn't work" and their thoughts about it.
Read the Series For Even More In-Plant Insights
Watch RSA's In-plant Insights blog for upcoming in-plant panel series posts. Get information from these in-plant and corporate print center leaders in government, banking and professional services that will help you better manage your in-house print center.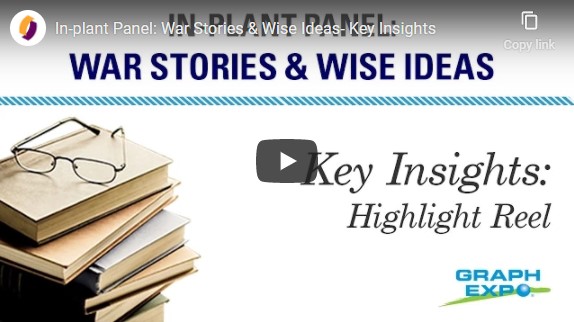 Why wait? Watch the video series now.
In-plant print center leaders in government, banking and professional services share war stories, wise ideas, and discuss equipment, insourcing, managed services, marketing, new products and more.