Elisha Kasinskas
|
September 05, 2014

This article is the first of an in-depth series introducing each of the in-plant panelists on the GRAPH EXPO panel I'll be moderating on Sept. 29, titled "In-plant Panel: War Stories, Wise Ideas and Q&A." The session features in-plant leaders in Banking, Government and Professional Services.
Introducing: Ron Balderson, Navy Federal Credit Union, Panelist
Ron Balderson has been the print and logistics manager for Navy Federal Credit Union since 2011. Prior to joining Navy Federal Credit Union, Balderson ran his own print shop for 23 years. Brought in to change the way the in-plant printing was managed and to keep it relevant, Balderson has modernized and streamlined the in-plant, growing print jobs 23 percent in that short time.
Navy Federal Credit Union is the largest credit union in the world with locations in Virginia; Pensacola, Fla., and California as well as 250 branches worldwide. The credit union serves five million members in U.S. Armed Forces, U.S. Coast Guard, Department of Defense and related personnel, and has been steadily increasing membership over the past several years. 
The nine person in-plant produces disclosure notices, materials for member welcome kits, advertising collateral for display and pick-up by members in branches, and wide format posters and banners. The shop uses digital and offset presses, wide format production printers, and has full bindery services, as well as a full service Copy Center with multiple color and B/W printers. The staff that reports to Balderson includes five print purchasing and direct mail specialists, who are responsible for $13 million in print buying and over 21 million direct mail pieces. Their operating budget, excluding equipment purchases is $1.7 million. Annual impressions are 31.5 million plus and 2,760 posters and banners.
Dodging Bullets While Aiming To Fly High
In 2011, Balderson assumed management of two groups responsible for purchasing or printing all of the Navy Federal Credit Union's print. Although the staff was loyal and tenured, morale and performance was at a low point. Rumors circulated that the shop would close. Much of the equipment needed to be replaced, the shop was in poor repair and space was poorly utilized. Jobs were consistently late or were poor quality, and there was no real MIS system. Because people are very important to Navy Federal, morale had to be fixed. And, of course, production had to improve. So Balderson implemented a three prong approach addressing: 1) people (morale), 2) facility and 3) equipment --- all while dodging bullets flying from customers.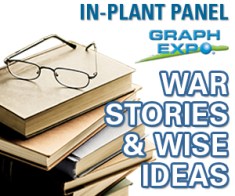 Watch the Full Session Panel Now
In-plant print center leaders in government, banking and professional services share war stories, wise ideas, and discuss equipment, insourcing, managed services, marketing, new products and more.