Elisha Kasinskas
|
July 06, 2020
RSA and two of the print industry consultants we work with, Howie Fenton and Keypoint Intelligence's Ryan McAbee have been writing a lot lately about the importance of your shop's financial and operational information, "data." Why all the fuss?
While according to Keypoint Intelligence, the top key business initiative for in-plants the last couple of years has been to focus on reducing production costs and improving efficiency, the irony of how it's been tracked by in-plants was highlighted in the results of their 2020 North American Software Investment Outlook Survey. Forty-six percent of the in-plants surveyed track their operational KPIs manually via job tickets and 23% use spreadsheets (the percentage using spreadsheets is even higher for financial KPIs).
To make matters worse, as shops struggle to keep up with the increase of small jobs (60% of the survey's in-plant respondents identify it as their top workflow challenge or bottleneck) only 24% of print volume these same shops produce is 100% automated (no human involvement).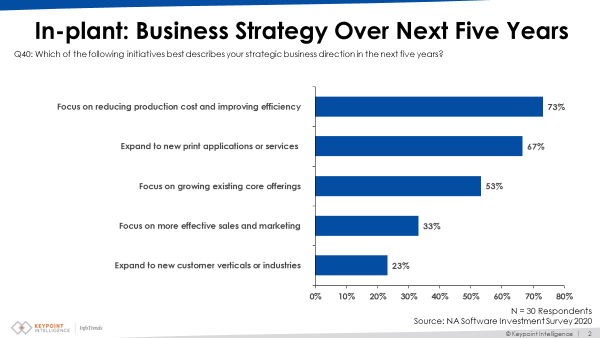 An Increasing Imperative
With increasing focus on operating efficiently due to new budgeting realities and minimal production shop staffing during the pandemic, it's become imperative that in-plants automate not just the production process, but also the collection of information during the process. Peter Drucker is often quoted as saying that "you can't manage what you can't measure."
By collecting information (data) about what's happening in the shop on an ongoing basis (our Web to print software, WebCRD does this automatically if you use the production module in addition to the submission module) you can manage the shop and get to the root cause of issues such as why you may not be meeting your on-time deliveries/SLA- the most used operational KPI for in-plants (57%, according to the survey). We've seen numerous examples where our customers found the underlying cause of an issue differed from their assumptions after they had access to and analyzed their WebCRD reports.
How to Be More Data-Driven and the Benefits
So where do you start if you are not collecting operational data, or if you are already collecting information?  How do you automate the process so that you have the information continually at your fingertips?
We've offered tips to explore how to become more data-driven,  tips about the critical information you need to collect to control costs and optimize operational performance, and tips to understand which key performance indicators (KPIs) are important and identify the data collection frequency and tools.
While the benefits of tracking operational and financial data should be apparent, I'll highlight a few: cost reduction, ability to provide management and administration with current data regarding your efficiency, reduced need for justification, increased customer satisfaction, and more.
And you can use the savings from waste or cost reductions you identify to justify spending on data-driven software solutions to optimize your business processes.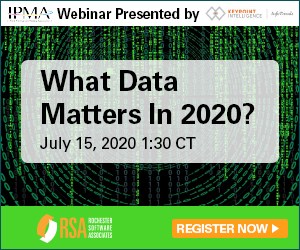 Learn More in our "What Data Matters" Webinar
If you want to learn more about how data matters and the steps that you need to take to be successful this year, attend the IPMA webinar RSA is sponsoring, "What Data Matters in 2020?" The session will be presented by Keypoint Intelligence on July 15, 2020 at 1:30CT. RSA will be offering attendees a new guide for in-plants about using their in-plant data to improve efficiency.