Elisha Kasinskas
|
July 30, 2020
Two new videos from RSA detail how our Web to print and workflow management software is exactly what Chino Valley Unified School District needs right now.
1 Innovative Software Package – 6 people – 22 Million Impressions
For Rochester Software Associates, I interviewed Troy Ingram from Chino Valley Unified School District (USD) in Chino, CA about how they have successfully navigated change from COVID-19 and the benefits they've realized overall using WebCRD.
The school district's in-plant print center was more than ready to navigate the changes needed to operate under COVID-19 because they were already receiving 100% of their jobs online through RSA's in-plant Web to print solution, WebCRD without social interaction, and use WebCRD's AutoFlow™ automation to reduce human involvement even further. All this automation prepared the print center to handle up to 200 jobs a day with reduced staff because they:
Automate 63% of all jobs
Turnaround 90% of jobs in three days
Saved the district as much as $98k a month in reduced operator touches.
Chino Valley USD: Using WebCRD and the Benefits
The school district of 28,000 student and 1,750 teachers and staff is able to produce about 22 million impressions each year by leveraging WebCRD. Ingram says the software automation increases both operational efficiencies and customer delight by reducing errors and accelerating turn around times. His clients can submit jobs online, they get automatically routed to the correct output devices, and then saved in the customer's workgroup folders, making it even easier to reorder. They also use WebCRD's free Variable Data Print (VDP) module, ImpactVDP™ to produce consistent and accurate pieces with variable data printing like this "Welcome Back" card that lets each school order the postcard, automatically filling in their logo and address information data for a unified look across all 32 schools in the district.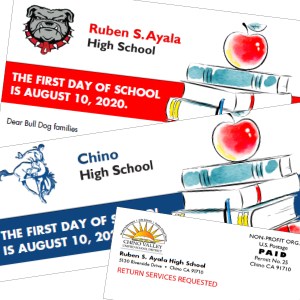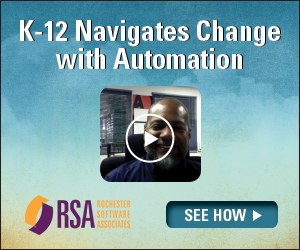 See How You Can Navigate Change and Experience the Benefits of WebCRD