Home /

WebCRD and Benefits Chino Schools
Chino Valley Schools Benefits from WebCRD Web to Print
See the benefits of WebCRD Web to print for this K-12 school.
The Chino Valley Unified School District (USD) in Chino, CA has approximately 28,000 students and 1,750 teachers and staff. The in-plant print center has six employees and produces about 22 million impressions annually. In this video interview we talk with the in-plant about their use of RSA's Web to print and workflow management software WebCRD, and the benefits the solution has offered to them, including:
Automation using RSA's rules-based engine AutoFlow
Efficiency and cost savings- 63% of all jobs are automated and the district saves up to $98k/month in reduced operator touches
Reduced errors
Happy customers
VDP items like postcards customized by school using RSA's free ImpactVDP WebCRD module.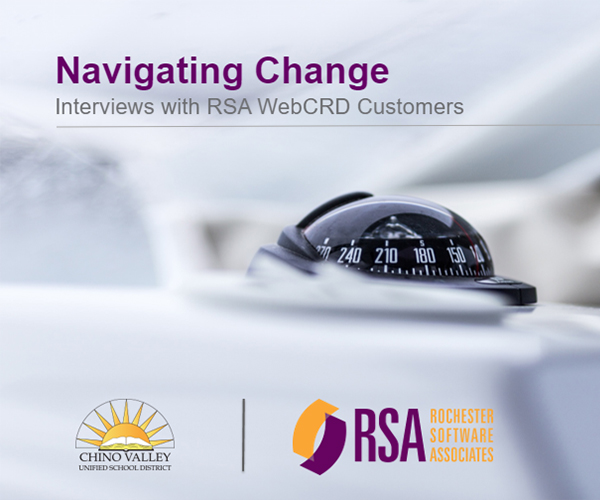 Learn How You Can Navigate Change
See how WebCRD automation prepared Chino USD to navigate change during the pandemic and kept the in-plant operational.
About this Presentation
Online Interview
Interviewers: Elisha Kasinskas (Rochester Software Associates)
Interviewees: Troy Ingram (Chino Valley Unified School District)