Ryan McAbee
|
June 17, 2020
RSA offers a quarterly "Build a Better In-plant Tips newsletter" to email subscribers. By special request, we are offering this issue as a blog post. To receive our quarterly tips to help you build a better in-plant, sign up today.
3 Tips to Lay the Building Blocks to be a Data-driven In-plant
I am continuing my theme for RSA about how to build a data-driven in-plant with three tips about how to lay the building blocks for a data-driven in-plant operation.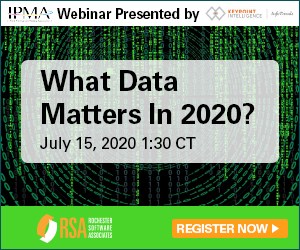 Hear more from me in a webinar, "What Data Matters in 2020?" Any in-plant can join the July 15th IPMA webinar presented by me and sponsored by RSA.
The world has changed since the start of this year's In-plant Tips series where I offered tips about the critical information to collect to control your in-plant's costs and optimize your operational performance. Many businesses have closed (some temporarily, some permanently), schools have been suspended, and we have been left to navigate a new way of working (remotely or with social distancing). In this new reality, in-plants need access to critical business data to:
Understand the impact on operations
Uncover new opportunities for serving customers
Assess the financial impact to the organization, as nearly all will be looking to eliminate costs from this year's budget
Now more than ever, in-plants must identify key performance indicators (KPIs) as discussed in last quarter's newsletter and start collecting the underlying data. Information is knowledge, and knowledge is power. Decision-makers are now facing difficult choices for continuing business operations, adjusting revenue expectations for the year, and evaluating costs to meet their forecasts. As a result, in-plants should leverage data to justify their existence, highlight their value to the organization, and hopefully become a source of additional revenue. Here are three tips on how to lay the building blocks for a data-driven in-plant operation:
Determine What, Why, How, Who, and When
Collecting data without a purpose is just time-consuming work that provides zero value to the in-plant and organization. Start by answering a few questions that will help narrow the focus about which KPIs are important. Once identified, the method for data collection, frequency of collection, and personnel to review can be set.

What financial and operational information is critical for the in-plant to remain a contributing part of the organization?
Based on this year's

 

North American Software Investment Outlook

 

research by Keypoint Intelligence, in-plants identified overall profitability and cost of goods sold (COGs) as the two most important financial KPIs to monitor. The most important operational KPIs were determining the percentage of on-time deliveries (e.g., meeting service-level agreements) and comparing the estimate vs. actual cost.
Why is that information important?
The KPI should serve as a reliable indicator about the financial health or operational efficiency of the in-plant.
How will the data be collected to support that KPI?
There are many methods for collecting data. Some may be collected through already established workflow processes, such as updating a job's status within the

 

Web to print

 

solution. Other data may be collected by the equipment, but some is likely entered into spreadsheets or shop floor data software.
Who will be responsible for collecting and reviewing the information?
Some data needs human interpretation, such as identifying the cause of unproductive time on a job and must be entered by shop staff. Create a standard, written procedure for staff members to follow. Likewise, make sure there is a base level understanding of how to review the data so all staff members can take corrective actions.
When will the information be reviewed?
Not all information needs the cost or complexity of collecting data in real-time, nor does each KPI require the same review cycle.

Identify the Tools
Most in-plants are already using software solutions that collect a base amount of data. Solutions like RSA's

 

WebCRD

 

track time spent to process jobs based on their status progression in the system, which can be used to understand estimated versus actual costs. Other data is being collected in your print MIS, accounting package, or custom spreadsheets. The key is to match the KPI with the right software tool for the job without duplicating any efforts.
Set the Frequency
Not all information is time sensitive. Operational metrics tend to be a leading indicator and are typically reviewed more frequently than financial data. Over half of in-plant respondents in our

 

North American Software Investment Outlook

 

research reviewed operational KPIs at least every week, whereas the majority reviewed financial figures on a quarterly basis. 
The key takeaway is that in-plants should be evaluating their financial and operational KPIs more frequently because of recent business disruptions. As an in-plant, understanding your "numbers" will be more critical than ever as your parent organization adjusts the forecast and its business plan for the foreseeable future.
Join us next quarter as we take a closer look at how to access business-critical data and more importantly, how to decipher that information to take action.
Contact RSA Today
Contact RSA for additional tips or to discuss how you can implement and benefit from these three tips.