Christina McDonald
|
July 24, 2023
I recently had the opportunity to speak at the In-plant Printing and Mailing Association (IPMA) conference about our efforts to increase our marketing to elevate the print center I manage at Seminole County Schools (Watch the session video, Elevate your In-plant: Revamp your Web to Print Site). Our results so far have been great- we've grown revenue 40% over the previous year, quotes are up 300% and 92% of customers tell us that our ordering process is easy. 
The Background of Our Marketing Plan Development and Goals
In September 2022, we set a goal to increase our marketing efforts – no more excuses! We had several department meetings to develop a start-up marketing plan.  I say start-up because it's always evolving. First, we expanded our offerings, upgraded some equipment, and stepped up our social media presence.  We're only scratching the surface and have a lot more to accomplish, but here's a closer look at some of our marketing projects and exciting 2023 plans. We had five main areas we wanted to improve. 
Promote our department and our offerings more.
Create a go-to place for folks to find us and learn more about us.
Teach our customers how to send us work more easily.
Continue to grow and learn.
Overcommunicate to stakeholders.
Promote Our Department and Our Offerings More
We decided to provide customers 'freebies.' How?  We used up stale inventory by offering 'surprise' paper to get rid of random/ugly colors or giving away a branded notebook that utilized decades-old coils; we repurposed botched jobs so they didn't just end up in the recycle bin; when we can, we turn a bad run into free scratch pads; and when a client has a job that provides 3" or more of paper waste – we turn it into a pad and include it with their job -- adding a note that says "Our Free Gift!"
We also created several sections on our WebCRD Web to Print website for featured items, download items (RSA's WebCRD offers trackable download-only items), and freebies. Some examples of past freebies include a downloadable coloring page, a build-your-own turkey activity sheet, a branded fall-themed notebook, holiday envelope seals, or 'surprise me paper'. Our customers are really enjoying these items and look forward to the next month's items.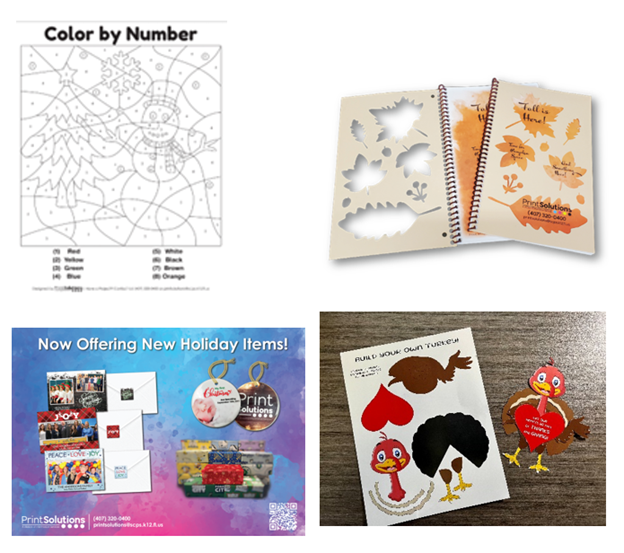 We updated our email signatures to promote our social media and current specials. We added links to the three things most folks ask us about – Where are you located (our location)? Where do I go to pay (pay here)? Where do I go to submit this or how do I do that (training materials)?  And, added a request for testimonials and customer ideas to the auto-completion email notification that our clients receive.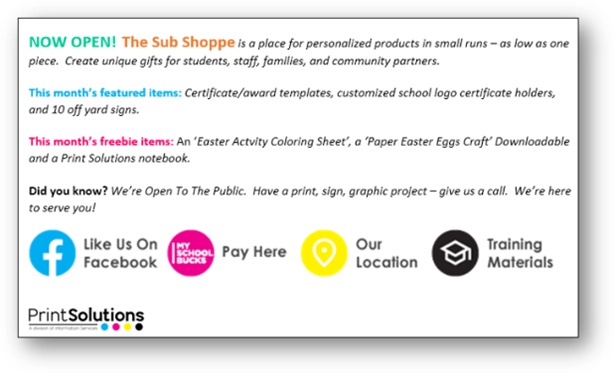 We wanted to improve our marketing online and physically on the inside and outside of our shop, too! As with most in-plant print centers, we're in an auxiliary building. Our building was once a strip mall – where no one knows we exist. To help existing (and new) customers find our building, we branded the fencing outside our shop and wrapped the front windows to make our department POP!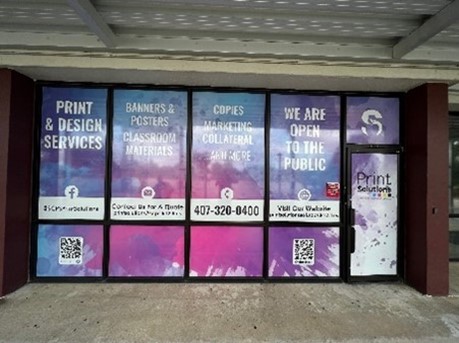 We also painted our interior walls, vinyl wrapped our eyesore doors, added electrical and networking on every possible wall, and rearranged our equipment to improve workflow. The added electrical/networking has allowed us to transition our shop so that we can pivot for functionality as the need arises. These improvements required very little funding and overall have given our in-plant a nice look and feel.


Create a Go-to- Place for Customers to Find Us and Learn More About Us
To keep our audience aware of product offerings, we revamped our Web to Print website home page with easy-access links to popular products, customer testimonials, and samples of our work. We spent a lot of time evaluating what our customers order most and made sure those items were visible and created templates to make the ordering process quick and easy. We know word of mouth is the best marketing anyone could ask for – we worked on obtaining testimonials from different arrays of our customer base and included those on our main ordering page – which we update frequently. Creating a secondary Google site to store samples of our work provides a 'go-to place' to showcase our offerings and helps with archiving our most recent projects. It makes it easy when someone asks if we do something…we can say YES and point them to an example on the site…and then they quickly start exploring the other folders and see how much more we do! It's also been a great resource for in-person client meetings. We can show them in real-time similar jobs we've done. Keeping the samples of our work in one place has saved us so much time and effort!

Our Web to Print Ordering Site Before and After Our Revamp
Before the revamp, our site looked like this.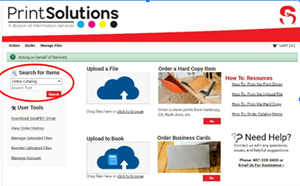 It's the cookie cutter version of what WebCRD offers when you implement it. We had it for four years. Nothing was wrong with it; it did what it needed to do, but it really was just, put our logo on it and kind of bare bones minimum of what we needed to do to make our page work. So, after the IPMA conference last year and seeing what others had done, I knew we could do better.
Our Ordering Site After/Now: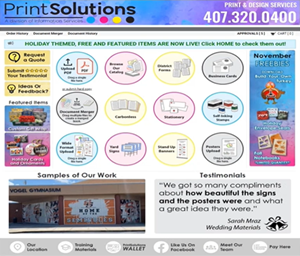 Teach Our Customers How to Send Us Work More Easily
We wanted to minimize the repeated questions/requests we receive so we added a "Training Materials" section to our Google site. We still have much to update on this page, but the foundation has been laid. We wanted to make it convenient for new hires to have a place to access our training materials and a place for us to conveniently update documents and videos without waiting on another department's schedule to get our webpage updated. It also allows us a place to update our 'frequently asked questions' and create 'how-to training videos' and upload them in real-time.
We maximized the use of the free VDP module offered by RSA called ImpactVDP in conjunction with WebCRD. Some example products we've utilized for ImpactVDP include business cards, stationary, N-up applications, pads, forms, name badge templates, postcards, and sublimation item templates. This easy to use, and did I mention, FREE, tool has allowed us to establish templates with branding cohesiveness in mind, it also allows customer customization when required, and expedites our production because the files output print-ready to our machines. 

Continue to Grow and Learn
We wanted to continue growing and learning amongst our staff. We want to keep our in-plant fun and welcome new ideas, so we're exploring new ventures we never thought of before! We bought an Intec cutter/folder/creaser with the initial hope that we could bring custom-cut car tags and business cards in-house and could crease/score coated stocks to give them a more polished look…that has morphed into several other possibilities. Not only did we bring business cards in-house, but we also custom designed and cut our very own business card boxes to put them in, created several car tag options, and table tent signs. Just a year ago, those would have all been custom die-cut projects we would have had no choice but to outsource.
We just recently purchased a sublimation printer, and we're continuing to learn all that it has to offer – so far, we've created ornaments, mugs, and tote bags. We'll soon offer name badges and a whole line of socks!  We're also growing our wide-format scope and have started offering custom gift wrap and car wrap services, in addition to already booming services in that area.

Overcommunicate to Stakeholders  
We wanted to keep our presence known to our stakeholders. I keep in touch with our stakeholders regularly and remind them to come to us or direct the departments they oversee to come to us for all their printing needs. I want our in-plant to be the sole source for our parent company when it comes to print, signs, and graphics. A few other ways I choose to over communicate -- I send welcome emails to new hires; I request a meeting and invite newly appointed leadership to a tour of our shop; I may courier a custom gift-wrapped box with a few scrap notepads; I share testimonials we receive; I share the good and the bad trends I see to support my efforts.

A line I use often  – "you don't know what you don't know" – and if departments are not required to go through our department and they don't know what we're capable of then they'll never come to us – and I'll never know what they need. I'll never know how to grow our operation. I'll never know where I can save my district money. So, it's important to stay in touch with the decision makers in your organization so that they know the value you bring. I want them to trust our experience in this industry and use it to their advantage. I want our in-plant to be the go-to place for our parent organization. 

Granted, we are still a small operation and cannot do all jobs in-house and that's okay. Allowing our department to be the 'middleman' in those times allows us to:
Know what's needed so we can take note and grow in those areas;
Be experts in our field. No one knows how to make an idea become a print better than our department;
Grow our community partnerships with area print and press houses; and
Still be the go-to department because we prove time and time again that we can get the job done and remove stress so they can continue to focus on their role.
The Sub Shoppe
Our newest venture is aptly named our "Sub Shoppe" (Sublimation Shop). We offer custom sublimation products - from mugs to plaques to socks; create and promote them on social media and offer monthly product specials. To support our community, we'll expand our services to more local non-profits and municipalities.
Results to Date
We have had 40% revenue growth over prior year. We typically have about 10-20%. It usually stays in that 10-15% range of growth every year. And already this year we are at 40% growth, over the prior year- the highest in our history. I can document and say we have a 300% increase in our quote requests. I couldn't have even given you a number before because we weren't quantifying it. We didn't have that Google form- which took five minutes to build- and be able to get those analytics. Our customer satisfaction and department awareness is up. I've kind of put those olive trees out there to those department heads and earned their support.  They are my biggest advocates. Eighty-two percent of our clients rate us at five stars or more. Of those that responded to our survey, 92% said that our ordering process is easy. That really is due in part to just taking all their feedback, looking at our goals and our mission and implementing all of those things on our site.
I encourage you to continue your efforts…keep knocking on doors…keep pushing the envelope…keep building those relationships…and whatever you do, keep growing and learning about the many opportunities to promote your in-plant!!  I hope you found this article helpful and that it inspires your shop to step up marketing efforts too…what do you have to lose?!