Home /

Elevate Your In-plant: Revamp Your Web to Print Site
Elevate Your In-plant: Revamp Your Web to Print Site
Watch and hear how this dynamic print center manager is increasing revenue- 40% in nine months- and awareness of the in-plant print center she manages by revamping her shop's WebCRD Web to Print site. McDonald is determined to make her print center the central and sole source for print, signs, and graphics at Seminole County Public Schools. The district is the 12th largest in Florida with 67,000 students and 10,000 employees.
Drawing on what she has learned from other print operations and adapting and streamlining their approaches to her organization's needs, hear these key thoughts about how to:
Leverage your Web to Print site's full functionality to drive awareness and business in every possible way.
Solicit customer feedback and convert it onto marketing items and market intelligence for future offerings.
Change your organization's culture and increase awareness.
Market your shop and services effectively on a shoestring budget.
Hover over the play bar to hear specific details of the presentation.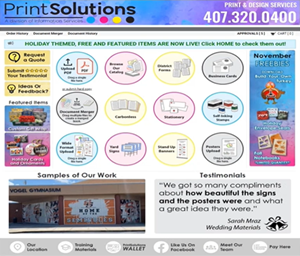 Read the Blog
Learn how to elevate your print center. Read McDonald's blog, "How We Grew Our Print Center Revenue 40% in Nine Months" for details about how to increase revenue, the process used, and the results. Talk with RSA about how you can experience the same results for your print center with RSA's software solutions.
About this Presentation
Presented At: IPMA Conference 2023
Presenters: Christina McDonald, Seminole County Public Schools
©2023 All rights reserved. No part of this may be used without express permission from Rochester Software Associates, Inc. and the presenter.