Elisha Kasinskas
|
August 30, 2018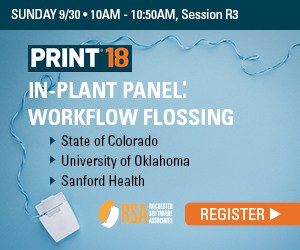 This is the second article introducing each of the three in-plant panelists for the Print 18 "In-Plant Panel: Workflow Flossing" session I'm moderating on September 30th. The panel features in-plant leaders in Healthcare, Government and Higher Education. The in-plant panelists will share their perspectives on workflow and offer their advice for other in-plants. In this post, I'm taking a closer look at The State of Colorado's State Printer, Mike Lincoln, who has an interesting perspective about workflow that I think you can relate to and find useful in your own journey.
Introducing Mike Lincoln, State of Colorado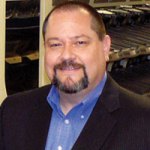 Mike Lincoln is State Printer, State of Colorado, operating within the state's Department of Personnel and Administration, Division of Central Services, Integrated Document Solutions (IDS) group. Lincoln oversees the IDS team with responsibility for graphic design, printing, mail, delivery and dispatch operations for the State of Colorado. Well known in the in-plant community, his extensive experience spans from technical to support areas in and outside of the printing industry. Lincoln has served on the advisory boards of several peer organizations, most recently as IPMA's President through 2016. State of Colorado produces over 120 million impressions annually with 58 employees and operating on a $11.4 million budget. One of the largest government in-plants, the State of Colorado has won numerous awards and was the first state in-plant to add a color inkjet platform. The operation's primary print focus is large volume transactional print, quick prints, and wide format, and also offers mailing, distribution and fulfillment, courier/delivery services, document storage and copier fleet management.
Four Ways Workflow is Like a Road Trip
When I asked Mike about his thoughts on workflow for the session, he had a great analogy. "If you think about workflow in terms of a road trip, the analogy fits perfectly! Whether it's a trip you have been planning for a long time or an ad-hoc trip." He feels that there are four ways that workflow is like a field trip:
Know where you are going. It's not a trip unless you know the destination, and in print workflow, it's not a job until you know the final product. Usually, with a trip you will at least glance at a map. In workflow, you should have a roadmap for the shop.
With a road trip, you think about the time that it is going to take to complete your journey. In workflow, this is your lead-time.
Depending on how long your road trip is going to take, you'll pack provisions. In workflow, you assess what is needed for each step of the workflow process, resources and bandwidth.
With your road trip, you gauge success on your arrivals and return, milestones in the trip or the process. When you get home, take a breather and recap the trip. Did you have the fuel you needed? Was everything as you expected, or did you encounter a surprise or two? And what kind of traveler would you be if you didn't record the trip for prosperity? Did you record the events? Did you note what was and wasn't as expected? Did you make a wrong-turn and note it for next time to make sure that you turn left and not right at that fork in the road? We tend to need to work out the kinks in the process and flossing makes sure you clear out the smallest of impediments to ensure a streamlined approach.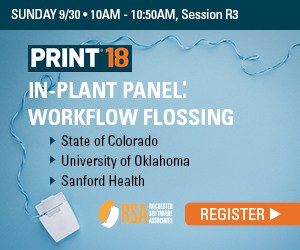 Watch the Full Workflow Flossing Session Here
Join Mike, me and these top in-plants from around the US to hear how they are "Workflow Flossing."