Howie Fenton
|
December 09, 2021
Each time we think the pandemic challenges are over, we learn that it is not over. As the year ends, we find that this is still true, meaning that we may discover new and possibly more serious issues next year. Research shows that not only will we continue to experience supply chain and staffing issues, but we could also experience pushback from customers about price increases and slower turnaround times. In the worst-case scenario, this could result in questions about the value of print or, worse, the value of the in-plant. This article will discuss the threats, the loss of value and offer suggestions to reduce this threat.
In a recent NAPCO webinar entitled "The Three R's of the Post Pandemic Commercial Printing Industry: Rebound, Reset, and Reimagine", Andy Paparozzi, the Chief Economist for the Printing United Alliance, reported on his State of the Industry report. In the webinar he discussed the good news, the bad news, and I have added the ugly concerns. The good news is that the sales forecast for commercial printing sales in 2022 is between 5.2% and 6.2% increase.
The bad news is that supply chain issues will continue to reduce materials availability, resulting in increasing prices. The higher costs are not limited to materials but also include shipping, staff compensation, consumables, and energy costs. In addition, we are also hearing about in-plants struggling to hire and that are working shorthanded. But the most significant issue described in the State of the Industry report was a prediction that customers' tolerance of price increases and service issues this year will not be accepted next year.
That could be the ugliest news because all of our research shows that customer satisfaction for in-plant customers is based largely on meeting or exceeding on-time delivery and competitive pricing. The possible solutions create additional problems. If you are short-staffed, you can try to meet delivery schedules with overtime, but that adds cost. If you don't pass the higher material costs to customers, that will result in lost revenue. Both could impact your ability to meet your financial goals. How can we reduce the impact of these challenges?
Three Strategies for Getting Ahead of Cost and Labor Problems
#1: Get More Proactive in Sourcing and Recruiting
Some companies have become more aggressive in searching for alternative sources to overcome supply chain issues. Admittedly that can help a little but not a lot. Other companies have been much more aggressive in their recruiting efforts. Some companies contact local high schools and trade schools and talk to guidance counselors. They are designing and printing brochures and web pages about career opportunities in the graphic arts industry and attending job fairs. Believe it or not, some are offering high salaries or signing bonuses.
#2: Consider Investments to Increase in Productivity
One of the only ways to avoid passing increasing prices to customers is by reducing manufacturing costs. As you can see in the slide from the NAPCO presentation, overwhelming the top strategy for companies is to invest in increased productivity and efficiency.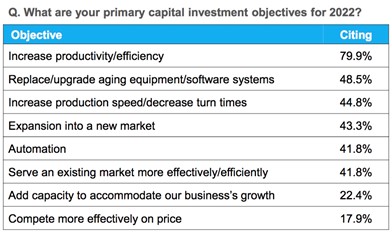 Where to invest depends on your workflow bottlenecks. You might need to invest in prepress, equipment, bindery/finishing, e-commerce, mailing, workflow software, or print enhancements.
#3: Ask Management for Help
These supply chain and staffing issues will not surprise management. They may already identify supply chain strategies for their core products and services. Or they may have already added incentives to their recruiting efforts. If that is the case, you could ask for help overcoming supply chain and recruiting issues.
Even if management is working to overcome these issues, they may not realize the impact on your customers. After explaining the problems, they may be willing to "forgive" some temporary financial results.
Discuss your Issues and Their Impact to Gain Awareness and Understanding
As many of the same challenges continue into 2021, consider becoming more aggressive in dealing with supply chain and recruiting, researching the costs and benefits of productivity investments. In addition, discuss them with your boss as well as the impact of these challenges on your customers. You may discover that they already had to deal with these issues with their core products and may be able to help. In addition, consider creating talking points with your staff to acknowledge these issues and discuss how it is not unique to your facility and the steps you are taking to deal with the problems. finally, talk about how these supply chain issues, higher material costs, recruiting challenges, and staff shortages are industry wide. They are impacting all in-plants and all commercial printers, not just your shop.
Leverage These Strategies to Prepare for Next Year
Contact Howie Fenton Consulting or RSA to leverage these strategies to address cost and labor challenges so that your print shop continues to operate smoothly.