Elisha Kasinskas
|
August 27, 2018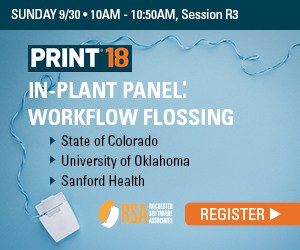 This is the first article introducing each of the three in-plant panelists for the Print 18 "In-Plant Panel: Workflow Flossing" session that I'll be moderating on September 30th. The panel features in-plant leaders in Healthcare, Government and Higher Education. Reducing or keeping costs low is a top priority for in-plants, yet for many, working on workflow is worse than going to the dentist. Session panelists will talk about a specific workflow project they are undertaking, share their perspective about how often and when they work on workflow, how they overcome hurdles, the process they use to improve workflow and offer their advice for other in-plants.
Introducing Lisa Stelter, Sanford Health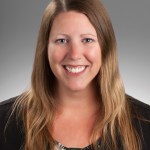 Lisa Stelter is the Manager, Print and Mail Services for Sanford Health in Sioux Falls, South Dakota. Stelter has more than 20 years of experience in the print/mail industry and joined the in-plant almost 13 years ago as a Graphic Designer. After leading a team of Graphic Designers, she recently transitioned to managing Sanford's Print and Mail Services. Sanford Health is an integrated health system headquartered in the Dakotas. It is the largest, rural, not-for-profit health care system in the nation with 45 hospitals and 289 clinics in nine states and three countries. The in-plant produces patient education materials and anything printed that the organization needs for operations. Output ranges from booklets, brochures and pamphlets to direct mail, averaging 36 million impressions annually with a $5 million budget and a staff of 13. The operation also provides delivery and courier services to multiple locations.
Conversion to Inkjet Opens Door to Workflow Changes
After taking over the print center and realizing there we efficiencies that could be gained by consolidating the heath care system's two print facilities into one centralized center, Stelter led efforts to purchase a new inkjet press. The new press has improved workflow and reduced touch points and has brought to the forefront the need for additional workflow changes. Changes due in part to retiring two homegrown web ordering systems and replacing them with a third system that is used for project management inside the organization.
In the "Workflow Flossing" session, Stelter will discuss her initiative to automate the workflow in her shop and reduce touches. She will also talk about the second stage of her workflow initiative, including how the in-plant is determining the best Web to print solution to fit the organization's needs, how standardization has improved workflow and her operation's process of shifting applications to the new press.
Join me and these top in-plants from around the US to hear how they are "Workflow Flossing."
Watch RSA's "In-plant Insights" blog for in-depth stories in the coming weeks about each of the panelists, their operations and why they would rather work on workflow than go to the dentist! These stories will offer a sneak peek at what sets these in-plants apart, the stories they will share and the valuable information that they will discuss in the session.