Home /

Bold Moves for the Future
In-Plant Panel: Bold Moves for the Future
Print centers present their experiences providing new services to customers.
Three in-plant managers in healthcare, higher ed and government/finance share their experiences with new services and the impact the new services are having on their organizations.
Watch the full 20-minute video to see these in-plants:
Discuss inkjet, Virtual Reality (V/R) & wide format
Offer key learnings, including challenges they must overcome
Share how they measure success
Listen to the special Virtual Reality (V/R) demo during the V/R discussion
Also, read this In-Plant Graphics article about the session and learn the new services and new initiatives the panelists discussed.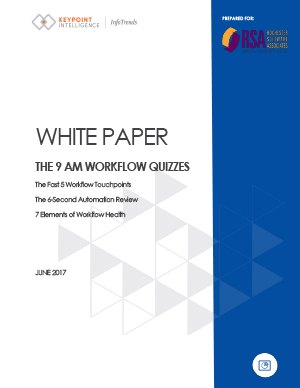 Get the 9am Workflow Quiz White Paper
Take the 3 quizzes. Find out how your in-plant print center scores. Assess your production print workflow and identify where you can improve.
About this Presentation
Presented At: Print 2017
Moderators: Elisha Kasinskas (Rochester Software Associates (RSA))
Panelists: Amanda Bronowski (UPMC), Jimmy Vainstein (The World Bank), and Laura Lockett (Sacramento State)