Home /

9am Workflow Quiz White Paper
The 9AM Workflow Quiz- Keypoint Intelligence InfoTrends White Paper
3 quizzes to assess production print workflow and identify improvements.
Take the 3 quizzes to assess your production print workflow and identify where you can improve. Find out how your in-plant print center scores and read Keypoint Intelligence |InfoTrends' guidance to increase your efficiency. In this white paper learn the:
Fast 5 Workflow Touchpoints and see ways to build your efficiency
State of your automation in the 6-Second Automation Review
7 elements of Workflow Health
Complete the form now to get the white paper and start learning today how efficient your workflow is and where it can be improved.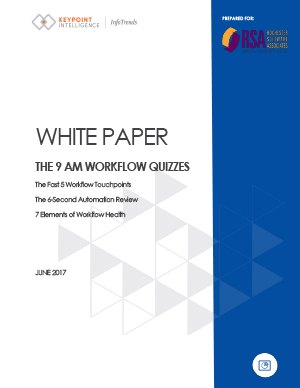 ---