Howie Fenton
|
January 27, 2020
In this vlog, I start a three-part series about the nine steps that I see that in-plants need to take to increase their profitability. While not every in-plant has a model to be profitable, in-plants can use these steps to ensure they are not losing money or operating below cost, and are operating as efficiently as possible for their parent organization.
I'm working on a project to help a university increase the profitability of their in-plant. They've been focusing on a few steps, but not all the steps required to really ensure success and achieve profitability. I created this nine-step plan that I believe is important to create a profitable in-plant business.
In this video I briefly list the nine steps and discuss the first three steps in more detail. In my next vlog, I cover steps four-six and in the final vlog I'll discuss the rest of the nine steps.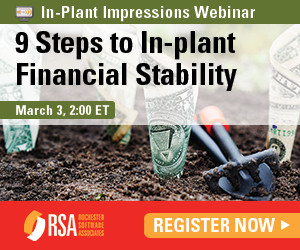 Learn More about the Nine Steps for In-plant Profitability
To get more detail about the nine steps, watch this webinar replay of "Nine Steps to In-plant Financial Stability" where I presented the nine steps in detail for In-plant Impressions and RSA. You'll also be able to download the companion guide.