Elisha Kasinskas
|
September 19, 2014
This article is the third of an in-depth series introducing each of the in-plant panelists on the GRAPH EXPO panel I'll be moderating on Sept. 29, titled "In-plant Panel: War Stories, Wise Ideas and Q&A." The session features in-plant leaders in Banking, Government and Professional Services.
Introducing: Staci Hill, Freese and Nichols
Staci Hill has been with Freese and Nichols, Inc., a Fort Worth, Texas-based engineering and architectural firm, for three years, managing the Print Shop, Mail Room and Building Services. Her professional experience is quite varied, most notably 15 years with Delta Air Lines, several years with Target, YMCA of Greater Louisville, UPS and many years as a real estate professional in Florida and Kentucky. Hill holds a bachelor's degree from the University of Louisville and is an IPMA member and popular presenter at both the 2014 and 2013 annual conferences.
This professional services in-plant offers digital printing and the associated finishing and bindery, wide format printing and UV coating. They print everything from advertising, marketing materials and collateral to architectural and engineering proposals and surveys that can be over 500 pages, with engineering specifications and diagrams and fold-outs. Orders are submitted online through their Web to Print solution. Freese and Nichols adheres to a Hedgehog Concept (the single thing that the organization aims to do well). In their case it is "Be the very best at client service, resulting in long-term mutually beneficial relationships." Hill has taken this concept to heart. During her tenure she has transformed the Fort Worth shop from a 700 square foot footprint into an emerging profit center, adding employees and replacing all of the equipment from digital presses to cutters to bindery equipment. The in-plant has forged new community relationships with local university and area ISD's while reconnecting with commercial in-plants to cross utilize equipment. There has been a huge boost in morale and a cultural shift to deliver exemplary customer service. While insourcing is still gaining momentum, they are taking on new customers weekly with no marketing efforts at all.
Hedgehog in the Shark Tank
Over the course of the past 12 months, Hill has fought the sharks and won the battle to lower pricing on binding and color copying in order to stay competitive in the commercial marketplace as well as with her internal clientele. While many in the printing industry would consider working with local commercial printers akin to jumping into a shark tank, Freese and Nichols has learned how to navigate those rough waters and established great partnerships, serving a broader market with cost competitive, expanded services. "By convincing and demonstrating to the corporate leadership team that we needed to reduce our prices, our internal customers are saving our clients valuable tax dollars," said Hill. "And, our external customers are generating higher productivity levels for our team.  We now compete on a commercial level and are generating revenue for the first time in our 120 year existence."
Register Today, Read Upcoming Posts and Experience Something New
Read RSA's blog for additional articles in the series about panelists Tim Smith from the State of Wisconsin and Ron Balderson from the Navy Federal Credit Union, and watch for session videos in October (watch videos from the previous panels here).
These stories offer a sneak peek at what these in-plants have overcome and the information they will share in the session.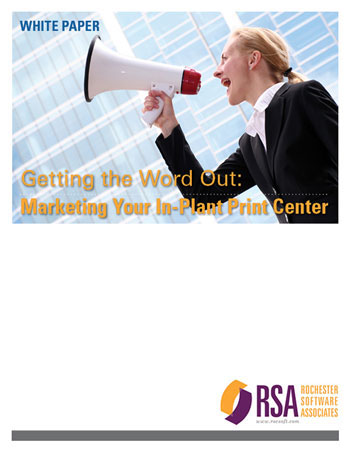 Want to learn how can you market your in-plant?
Get insights from this informative white paper "Marketing Your In-plant Print Center." See Steps to Building Your Marketing Plan and Examples from In-plant Print Centers.