Lisa Weber
|
August 14, 2018
In-plant print centers and print service providers (PSP) recognize the value of Web to print (W2P) software. At a time where "do more with less" is dogma in almost every customer's office that you visit, in-plants and PSPs are struggling to keep up with the increased demand for short-run jobs.  In the recent In-plant Graphics (IPG) "Software and Automation Trends in the In-plant Industry" study, non-users interested in deploying a W2P solution expect to expand their capacity to take on more jobs, increase revenue and customer satisfaction, reduce costs and turnaround times, and free up staff to accomplish more important tasks. Current users reported improved efficiency in job ordering, productivity gains in the in-plant department, and increased customer satisfaction as the greatest benefits of having their own W2P platform.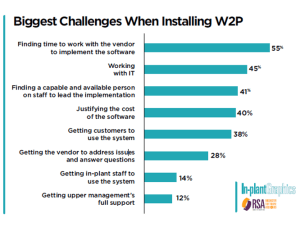 While in-plants and PSPs see W2P as the answer to their problems, many don't realize that deployment requires much more than the wave of a wand. While just over half of respondents said that their W2P solution is fully operational and meets all their expectations, 30 percent said that their fully deployed solution does not meet their expectations. Another 18 percent labeled the status of their W2P deployment as "a work in progress."
Inevitably, technical and logistical problems, combined with the innate force of human stubbornness, will inhibit implementation. In IPG's study, respondents said complications with justifying the investment in W2P and getting upper management's full support were hindrances. The study revealed that motivating employees to adapt to new solutions and use them to their fullest potential, working with the parent company's IT team, and vendors who take too long to address problems were the most common problems.
Technological and logistical problems represented the biggest nuisances. Respondents noted difficulties with justifying spend (40 percent) and getting upper management's blessings (12 percent) as barricades to implementation. A little over half of respondents said that it was difficult to find time to work with the vendor to implement the software, while 28 percent had trouble getting the vendor to address issues and answer questions. Working with IT (45 percent) and finding a capable and available person on staff to lead the implementation (41 percent) presented difficulties as well.
Lack of adoption was another common complaint in the implementation process. While adoption problems were small among in-plant staffers (14 percent), a whopping 38 percent of customers aren't making the switch. Almost half (45 percent) of W2P users reported that customers are still emailing files or using FTP sites to submit jobs, while only 31 percent use W2P.
How to Avoid The Biggest W2P Implementation Problems
Overcoming these problems is far from impossible. It doesn't hurt to partner with a W2P developer who can set up and guide your customers toward success. For instance, some developers like RSA will handle setup and offer uncapped implementation support, which will ensure that technical issues don't get in the way of fulling deploying the system. But once the system is fully deployed, it's important to educate customers. Some have found it useful to provide unlimited instructor-led training and provide resources to maximize adoption. Some W2P platforms offer reporting functionality so in-plants can show their parent company how they've increased productivity and revenues while reducing overall costs.
Indeed, W2P technology is a game changer for in-plants. But before customers can realize all the benefits of W2P, they must navigate a tricky implementation process. Be it technological issues, logistical problems, plain old human stubbornness, or any combination of the three, customers are bound to run into trouble. Just like a house with a weak foundation, a disorganized implementation process can doom a project from the start.
It is up to dealers to understand these problems and know what to do when they arise. It helps to work with a W2P developer like RSA that likes to get involved and can drive adoption and help customers take full advantage of the system.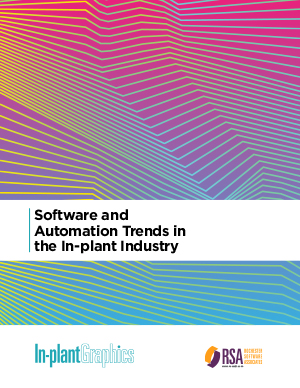 Work with RSA to Help Customers Avoid the Biggest WTP Implementation Challenges.
Download the full research report and work with your RSA BDM to develop a strategy to take advantage of these trends in your area.