Home /

Software and Automation Trends in the In-Plant Industry
Software and Automation Trends in the In-plant Industry - Research Report
Read about in-plant industry software and automation trends in this In-Plant Graphics research report.
This In-plant Graphics research report* discusses software and automation trends from a survey of nearly 200 in-plants in the in-plant industry. Download this research report and learn:
The top software in use and what software in-plants plan to purchase or upgrade.
The top benefits, features, and anticipated results of Web to print solutions for in-plants.
About workflow automation levels, and the top workflow bottlenecks and workflow initiatives.
Why investing in software technology is crucial to add value, reduce bottlenecks, and streamline workflows.
About implementation challenges and how in-plants can overcome them.
Complete the form now learn about the latest software and automation trends in the in-plant industry and how you can take advantage of them to improve your in-plant and add value.
* This research project was made possible by Rochester Software Associates.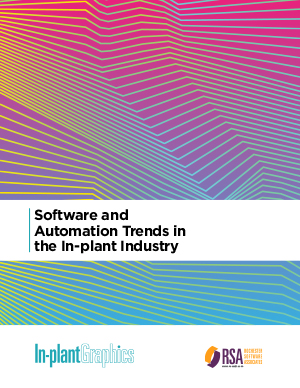 Title:
Software and Automation Trends in the In-plant Industry
---