Patricia Ames
|
July 18, 2018
This is the first post in a two-part series about the "Software and Automation Trends in the In-plant Industry" study of nearly 200 in-plant print centers.
According to research recently released by In-plant Graphics ("Software and Automation Trends in the In-plant Industry"), web to print (W2P) platforms, workflow/production automation software, and variable data printing (VDP) solutions represent the best opportunities for dealers in the production workflow space.
When you look at where the research respondents are willing to invest, the best opportunity exists in the workflow/production automation space. Between customers who already own but plan on upgrading workflow/production automation, or those who have yet to purchase workflow/production automation but plan on doing so, 22 percent are considering an investment. Second — and not by much — was the W2P space, with 21 percent of respondents considering investment. VDP solutions were also in demand, with 16 percent looking to purchase new or upgrade their existing VDP technology.
But it's not enough to see that there is a demand for one technology or another. Dealers also need to understand why there is a need and what's motivating it, so you can ask the right questions and guide customers towards solutions.
Web to Print 
Considering how undersold (or perhaps under-bought) it is, Web to print is one of the more attractive opportunities for dealers in the production printing space. Less than half — only 46 percent of respondents — own a Web to print solution, while 17 percent don't own but consider purchasing one. Another 4 percent want to upgrade their existing platform. When you zoom in on respondents that are not using W2P software — be it because they never got around to deploying the technology or that they've been relying on something developed in house — 41 percent are potential customers!
But what's drawing customers to Web to print? For those who have yet to deploy Web to print, easy ordering (98 percent) was the most sought-after feature, followed by job tracking and status notification (85 percent), accounting and chargeback integration (76 percent), real-time cost estimating (74 percent), and reporting capabilities (72 percent). Respondents anticipate that Web to print will help them increase customer satisfaction (81 percent), reduce turnaround times (69 percent), free up staff to do other things (67 percent), increase business and revenue (59 percent), reduce costs (56 percent) and help with brand control (31 percent).
Workflow/Production Automation
Like Web to print platforms, workflow/production automation solutions appear to be undersold. Forty-seven percent of respondents currently own workflow/production automation solutions, with a quarter of those who are planning to upgrade. Twelve percent of respondents said they don't own workflow/production automation software but are interested in making a purchase. In addition, only 2 percent of respondents claimed to have fully automated workflows, while 4 percent had full automation after the job was submitted. Alarmingly, 20 percent use mostly manual processes in more than one but not all departments.
Most of the demand for automation is driven by changing demands of the in-plant department's parent company. Nearly half of respondents said that dealing with higher volumes of shorter print runs (49 percent) and a lack of staff (48 percent) are their biggest workflow problems. Customers also mentioned that they are having trouble customizing workflows to meet their needs and managing them (30 percent) and reducing job turnaround (29 percent).
VDP
Even though 74 percent of in-plant departments provide their parent company with VDP, only 65 percent own a VDP solution. And while the high percentage of owners appears to signal a saturated market, there are still 16 percent that are willing to make an investment — with 11 percent comprised of interested non-users.
VDP is attractive to customers, since it enables them to provide a broader range of printing services to the parent company so costly outsourced print work can be brought back in house. Thus, VDP can help the in-plant be seen as a valuable sector of the business, not just another cost center.
How do you leverage these opportunities?
Dealers need to align themselves with solutions developers, such as Rochester Software Associates (RSA), who deliver software that can solve all their customers' problems.
For example, WebCRD, the company's Web to print solution, enables dealers to provide their customers with a solution that can simplify job submission, enable customers to view the status of current jobs, and integrates with a larger variety of enterprise software solutions. The solution also offers robust reporting, which can help in-plants prove their worth to upper management. Multiple VDP module options are also available with WebCRD, which can help in-plants expand the kinds of jobs they can create and bring more print work in-house. WebCRD also has modules to help customers create and manage automated workflows, no matter how complicated they are.
Conclusion
There is ample opportunity for dealers in the production print space. The combination of increasing demands for more short-run jobs, too many manual processes and too few staff members to complete them creates an environment where mistakes are made, deadlines are missed, margins are reduced, and customers upset. But with Web to print, workflow/production automation, and VDP functionality, dealers can help their customers do more with less, reduce turnaround times, and improve customer satisfaction — all they have to do is ask the right questions and guide their customers to the right solutions.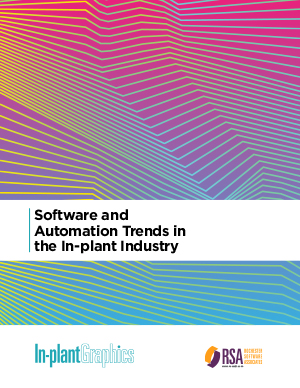 Learn More About the Opportunities- Download the Research Report.
Download the full research report and work with your RSA BDM to develop a strategy to take advantage of these trends in your area.