Howie Fenton
|
May 30, 2017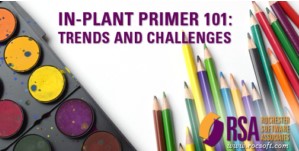 This in-plant primer article is the fifth in a 12-article series designed to help dealers and print vendors understand in-plants called "In-Plant Primer: From Operations Basics to Advanced Sales Concepts." Topics so far have included: defining in-plants and different in-plant types, the top challenges and issues, the typical in-plant customer contacts to engage in workflow conversations and the impact of technology trends. This article will focus on in-plant industry trends.
Key Take Aways
There are trends that are both positively and negatively impacting in-plants.
The single greatest threat to in-plants comes from outsourcing and facilities management companies, but this threat may be declining.
The second greatest threat is the result of declining volumes of traditional products and services, making it harder for in-plants to meet their financial objectives.
In-plants are offering a wide variety of new products and services to help offset the declines in print volume, including in-sourcing. 
Trends Negatively Impacting In-plants
The greatest threat to in-plants is a result of outsourcing companies or facilities management companies who are interested in taking over (FM) or outsourcing the in-plant's work. When a sales person from one of these companies approaches the C level executive responsible for the in-plant, they often focus on these three questions:
Why is your company offering printing services if it is not your company's core competency?
Is the in-plant's facility mission strategically aligned with the parent company?
If we could sell (outsource) or manufacture (FM) the same products for less money, would you be interested?
While the first two questions may generate some interest, it is the third question about pricing and potential savings that almost always does. That is why it is critically important for in-plants to take a proactive role in monitoring and benchmarking their prices against a market. The other threat to in-plants is the declining volume of traditional work. For graphic arts in-plants, the decline has reached 25% after specific recessions but has been recovering at 1 to 2% a year. In contrast, transactional in-plants are experiencing more gradual declines in volume- of up to 5% year- and are not recovering. This is due to substitution of electronic alternatives (specifically bills or statements) that are no longer printed and mailed but accessed by computers or mobile devices. Graphic arts in-plants are also experiencing substitution of electronic alternatives.  For example, some university in-plants have seen declines in printed course packs for e-books.
Trends Positively Impacting In-plants
The traditional distinction between an in-plant and a commercial printer is that commercial printers sell their products to external companies while in-plant printers only sell to internal customers. However, that is changing. As traditional print products decline, in-plants are now offering their products and services to external customers. Within the in-plant community this is referred to as "in-sourcing." The advantage of in-sourcing is that it provides an additional revenue stream that helps the in-plant meet its financial obligation. For some in-plants, that means no longer operating at a loss, but operating at a financial breakeven point or even making money. As demand for traditional products continues to decline, in-plants are looking to diversify their products and services. As a result, most in-plants are offering a wide variety of more value-added services including design, large format printing, variable data printing, Web to print shopping carts, mailing, fulfillment, photography, multimedia services, email marketing and even advertising services. There is evidence that the growth for outsourcing and facilities management services has reached a peak and is now in decline. As discussed before, overall print sales have declined from approximately $100B to an estimated $82.5B in 2016, according to Andy Paparozzi, the Chief Economist at Idealliance.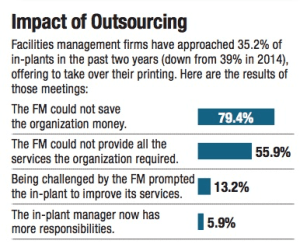 This decline has resulted in lower profitability in commercial printers and challenges in fulfilling financial obligations for in-plants. These factors have resulted in less interest by outsourcers and FM companies taking over the in-plant. This is consistent with the In-Plant Graphics Magazine survey showing that the number of times FMs have approached in-plants has declined from 39% in 2014 to 35% in 2016. As the volume of traditional products declines due to electronic alternatives, in-plants are searching for new products and services to offer. The most popular value added services include: design, Web to print shopping carts, large format printing, variable data printing, mailing, and in-sourcing. In our final 101 primer article, I'll talk about the kind of "probing questions" to ask that will help identify areas where workflow solutions like RSA's can easily improve an in-plant's operation.
Learn More About In-plant Trends With RSA's Primers and Resources
Want to learn more about in-plant print centers? Login to your RSA partner portal to download our two in-plant primers.
Visit RSA's resources, packed with in-plant information and follow up the in-plant experts at RSA.