Vince Tutino
|
December 06, 2016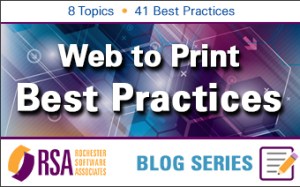 I covered a lot of ground in this series on Web to Print Best Practices for In-plant Print Centers: installation, roll out, marketing and selling the capabilities of the system, user adoption (both the print shop and users), pricing, production and automation and expanding the print shop's reach and influence to grow your operation and achieve the maximum benefits. Here are what I consider the 10 key series takeaways:
Set aside time to work on the project– An implementation and use of a system does take time, but it will be worth it! Not allocating time will significantly delay your go-live date and delay the realization of your Return on Investment (ROI).
Have technical help available, including IT contacts– If you don't have someone, consider hiring a "Print Shop Technical" person. IT can make your life easier or harder - it's best that you have them on your side.
Be willing to change and help others see the benefits– Change can be difficult for your customers AND your staff. It's better to change now than to be outsourced in the future.
Internal marketing is important– You may still be stationed in the basement, but with the Internet you are only a click away. If, and only if, people know what you do and your URL!
DOCUMENT your savings and how much value you deliver to the organization– You are much more than the equipment you have. So use the people, process/knowledge and technology that you provide to make an impact and when you do, keep track of the improvements.
Look for ways your capabilities can be leveraged to help your users and the bottom line.
Seek out new ways to continually improve– Chances are there are capabilities in the Web to print software that you don't know you have. Discover these as you need them, or work with your Web to print provider, like RSA to learn more.
Automation is a process that takes time. The key is to start.
Get involved in user and industry groups.
Make product suggestions for improvements– Many new product features and improvements were suggested by customers, but we don't know what you are thinking unless you tell us! Don't leave it to someone else.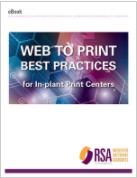 Get the Series eBook!
Want the entire series captured in a convenient eBook? Down this eBook for 42 best practices from eight topic areas.