Howie Fenton
|
July 02, 2021
Is It Time to Pivot to Growth Applications and Strategies?
It was easy to laugh during the infamous "pivot scene" in the Friends reunion show, which showed our friends (Ross, Rachel, and Chandler) trying to carry a couch up a flight of stairs. Especially when Ross continually called out "Pivot" as they attempted to negotiate the twists and turns on the staircase. The next day, listening to Bob Neubauer's virtual presentation at the 2021 IPMA conference, it became clear that the pre-pandemic product demand was different from post-pandemic. The obvious question is how you will negotiate the twists and turns in product demand and when you should pivot your in-plant operation. In this article, we will discuss applications that are likely to decline and grow and discuss a strategy to help you win back clients that may have outsourced their work.
In-plant Impressions magazine has been closely following the changes during the pandemic and in the recent presentation by Editor Bob Neubauer showed many comparisons. The bottom line is that overall business is increasing, but some print applications are growing while others are shrinking. Among the applications that grew were contour cutting, printing on rigid substrates, and mail scanning.
Graphic/Signage Demand
It should be no surprise that demand for signage grew dramatically. As you can see in the graphic below, growth occurred across the board but increased most for floor graphics.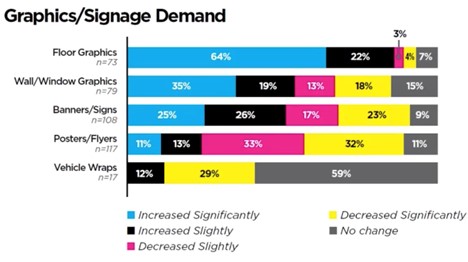 However, will this increased demand for floor graphics remain or decline? Some argue that floor graphics was a solution in need of problem and that demand will likely reduce post-pandemic. That is an opinion and may or may not be accurate. What is more important is identifying growth opportunities. Three opportunities seem poised for growth: scanning services, everything that automates production, and believe it or not, a resurgence in demand for QR Codes.
Scanning Services
An early trend that has not reached critical mass is scanning services. According to an ITC white paper title, Scanning Brings Cost and Efficiency Benefits to a Wide Range of Common, Everyday Business Processes, scanning helps transition from inefficient paper-based business processes to more efficient electronic-based operations. Among the benefits discussed in the white paper are:
Easier access to business documents
Reduced time and cost in business processes
Reduced space required for paper document storage
Increased employee productivity
Increased document security (firewalls, encryption)
Scanning services, however, have only been adopted on a limited basis. In the IPMA 2019 research we conducted, we found that 15% of in-plants found that scanning demand increased and 7% listed scanners as the equipment they needed. During his conference presentation, Bob Neubauer told a story about how the staff at an in-plant had to work from home during the pandemic but kept busy scanning, naming, cropping, and placing documents in folders. He also talked about attending a UK in-plant conference that also spoke about the growth in scanning applications.
QR Codes
QR codes are also an underutilized opportunity for in-plants. A 2019 white paper entitled Software and Automation Trends in the In-Plant Industry written by In-plant Impressions and sponsored by RSA found that only 6% of in-plants used PURLs (Personalized URLs) or QR codes. Lately, however, there has been an explosion of exciting stories about QR Codes including: an article in the New York Times, an article in Wide Format Impressions and a podcast hosted by Deborah Corn and Pat McGrew talking to Jamie McLennan from DMR Graphics.
I found the Print Media Centr podcast most interesting because it talks about success stories and articulating the value and the benefits of QR codes. While many in-plants tested QR codes without much success, many of these tests were done on small-format applications such as business cards and brochures. But there are benefits associated with QR codes on signage and posters.
Automation and Reducing Prices
One of the most significant challenges of the pandemic for print service providers was working remotely. The nature of many of our print production processes requires human intervention. For example, loading and unloading paper, moving printed pieces into and out of finishing equipment, and preparing products for shipping and delivery make it very difficult to eliminate staff.
However, some steps are easier to automate. Admittedly automation will not increase growth directly, but it will indirectly. The more you reduce manual intervention and automate processes, the more you reduce manufacturing costs, the more you can minimize prices, the more work you can sell to more customers. Investing in Web to Print software or increasing the products in the shopping cart helps reduce labor associated with estimating, order entry, and billing. Investing in prepress software will reduce preflight and imposition work, and a print MIS solution can reduce estimating and billing.
Over the last six months, we have been working with a university In-plant to reduce costs and have been able to overall reduce pricing by 30%. These reductions were from automation, which allowed us to reallocate expenses in budgeted hourly rates and increase discounts for volume purchases. As a result, we are starting to see customers that had been outsourcing start to return.
Summary
During the pandemic, in-plants struggled as demand plummeted. While a small percent grew, the majority experienced declines of 70% or more. Just as we have witnessed after every recession, we will likely find that not all the pre-pandemic volumes will return. The best solution is to focus on growth opportunities and strategies. Two growth applications we discussed are scanning services and QR codes. One approach to regain customers who have outsourced their work is to increase automation to reduce costs.
Learn More About How to Pivot to Growth Applications and Strategies