Elisha Kasinskas
|
January 14, 2013

In this session of our occasional audio series, "In-Plant Print Leader Chat" our featured in-plant leader chats about reorganizing reams for efficiency.  Re-aligning your in-plant's team to meet new needs or handle more work with fewer people is a fact of in-plant life. Tim Hendrix, Program Manager, State of Oregon Department of Administrative Services (DAS) Publishing & Distribution (P&D) program chats about this topic from first-hand knowledge.
The State of Oregon is the fourth largest government in-plant in the U.S. Tim is the Program Manager, overseeing the production print, secure print, production mail and the shuttle service. He has been a part of the P&D team for over 13 years managing Customer Service and Information Technology and has managed through reductions in staff of 20% since 2010, while maintaining the same level of service to his customers.
Listen for these key take-aways: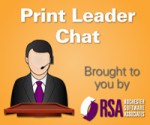 How to access key employee strengths
Keeping team members motivated and engaged
Re-aligning for success- what works and what doesn't
How to best leverage technology to increase efficiency
In-plant Managers Share Their Expertise and Experiences to Help Other In-Plants
"In-Plant Print Leader Chat" is a free 45 minute call hosted by RSA and led by a different in-plant leader each session with expertise in a specific topic. This informal audio-only call is designed as a quick way for in-plant leaders to share information and help other busy in-plants learn from these leaders in an intimate setting.
Our November session about budgeting brought fourth great ideas and discussion such as lease versus buy, staggering purchases, adding services and reporting.