Elisha Kasinskas
|
December 13, 2013
In video eight of our nine video in-plant panel series of in-plant leaders discussing their success secrets, this week's video features these leaders offering some budget do's and don'ts.
Budget Advice from Top In-Plant Leaders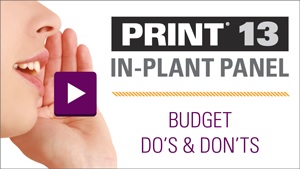 Colorado State Printer Mike Lincoln encourages in-plant managers to do your homework and ensure that you're ready before deploying new technology. He has found it helpful to talk to others to gain RFP insights while he has been exploring continuous fed inkjet. Progressive's Tom Rohrbach suggests challenging the status quo- don't get complacent- and to look at all aspects- people, processes, equipment and materials of the operation- not just one. Garry Boytos of University of Texas Health Sciences San Antonio's (UTHSCSA) offered some general do's and don'ts; "Do anything that has print on it, not matter what it is. Find a way to do it. Be the first one they call, not the last resort." He also stated that in-plant managers should not ignore the signs you hear or information your peers and customers have. Hear more of their thoughts in the four minute video.
Tune in next time to hear the one final piece of advice these leaders have for other in-plant managers.
Watch this Blog for more of the Panel Series, or View the Entire In-Plant Print Center Leader Video Series
Learn more in these short videos from the in-plant panel of these Insurance, Higher Education, Government and Healthcare in-house print center leaders. Interested in other topics? View the entire in-plant print center leader video series collection of nearly 50 videos to watch top in-plant prints share their secrets of success, discuss how they add value, grow volume, automate, save and more.