Rochester Software Associates
|
March 22, 2022
As print shops have navigated the last two years, it's apparent that we are operating in a different world with new challenges- some longer term than others. RSA and our customers have seen that automation and using workflow software has become essential for in-plant print centers and commercial printers to function and prepare them - future-proof them - for future success.
Pandemic Challenges Paired with Industry Trends Created a Perfect Storm for Automation
While pandemic challenges have included supply chain problems, other long-term trends of staff shortages, shorter print run lengths and faster job turnaround were exacerbated. Now, as volumes are increasing there is even more pressure to perform operationally, perform financially, and diversify to keep print shops profitable and healthy for the future. Working with In-plant Impressions, RSA has developed three resources that you can use to put you on a path to future-proof your operation.
Three Resources to Future-Proof Your Operation
Future-Proof Webinar Session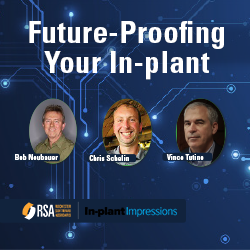 Our first future-proof resource is our In-plant Impressions session sponsored by RSA. In the session, hear The Center for Disability Service's automation story, the latest trends from In-plant Impressions Editor in Chief Bob Neubauer, and how workflow software can future-proof your print shop from RSA workflow expert Vince Tutino. 
Watch replay
Commercial Print and Mail Center Case Study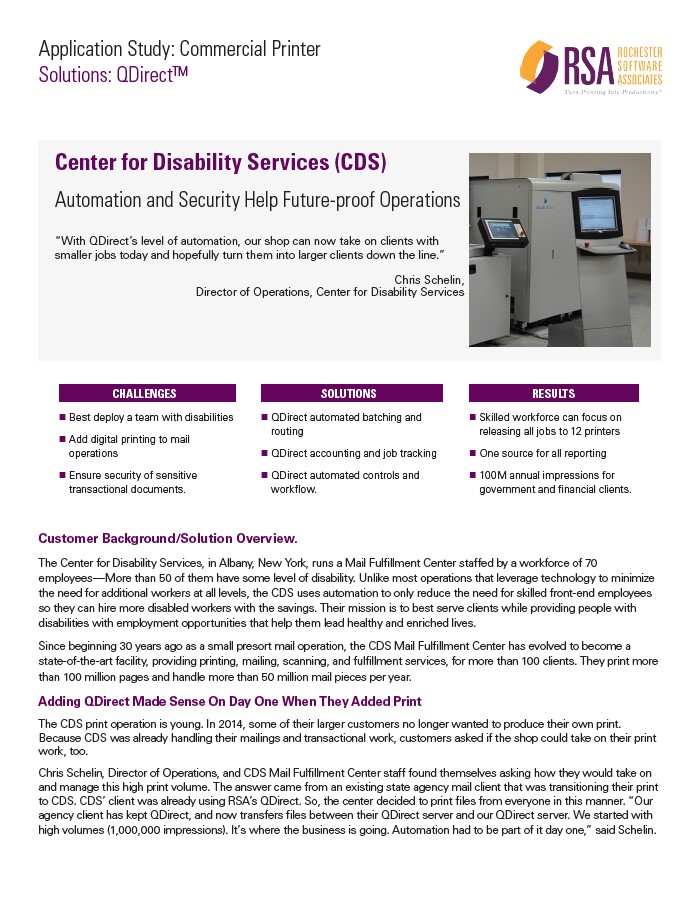 The Center for Disability Services (CDS) in Albany, NY runs a Mail Fulfillment Center staffed by a workforce of 70 employees- more than 50 of them with some level of disability. Since using workflow automation (in the form of RSA's QDirect output manager) day one when they added print to their services, they've been able to grow their volume to 100,000,000 annual impressions and add new customers without adding skilled staff.

QDirect automates CDS' document workflow, is a one stop shop management resource, and tracks output at a byte level for high security commercial clients and New York state agencies.

Learn more about the Center for Disability Services in their case study.


New In-plant Impressions RSA white paper:
"Future-Proofing Your Business with Technology, Automation, and Tools"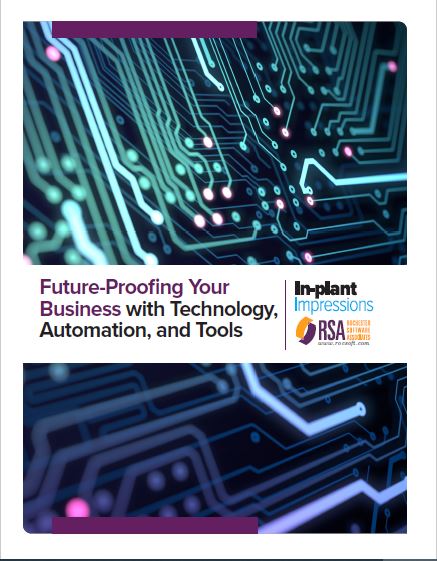 The white paper offers a more in depth look at the topic with:
Information about the trending challenges from several In-plant Impressions and PRINTING United Alliance research projects and surveys
The strategic response from one health care print center and one commercial print/service bureau to successfully address the challenges with workflow software and automation
Discussion of the essential production print workflow software tools like RSA's (WebCRD Web to Print, QDirect output manager and variable data solutions such as ImpactVDP) and the key role they are playing for in-plants and commercial printers to future-proof their operations.
Get the White Paper
Ideas for Future-proofing your In-plant Handout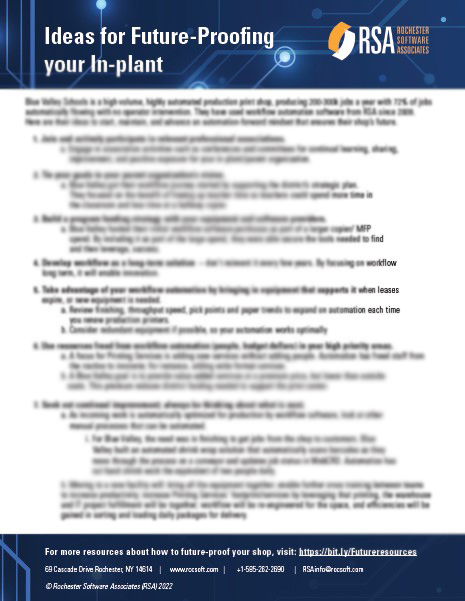 Get seven ideas for future-proofing your in-plant. Read these exclusive ideas from Blue Valley Schools to start, maintain, and advance an automation-forward mindset that ensures their shop's future. Presented in the IPMA 2022 conference session, "Ideas for Future-proofing your In-plant."  Watch the session videos soon.
Get the Ideas Handout
Learn Today How to Future-Proof
Peruse these and other valuable RSA resources or talk with our experts today to learn more about future-proofing your in-plant print center, commercial print or service bureau operation.