In this 60-minute recorded session, learn how automation helps in-plants thrive in the new business climate while preparing them for future success. We explore how Web to Print and workflow software enable in-plants to handle an influx of small, on-demand jobs with fewer on-site employees. We look at how Web to Print and output management solutions can help make paper and supply shortages less visible to customers. We also show how automation is opening opportunities for in-plants to add additional services and volumes, increasing their value.
The video divides the session into topic chapters (see the blue dots) to easily skip to topics that interest you.
The webinar covers:
The industry-wide staffing shortage and how printers are addressing it through automation.
How one in-plant has used automation to reduce the number employees needed to handle files, enabling the shop to hire more disabled employees.
A closer look at how to leverage available solutions in Web to Print, output management, and variable data composition to address market dynamics.
How workflow automation creates opportunities for additional services and revenue to future-proof the in-plant.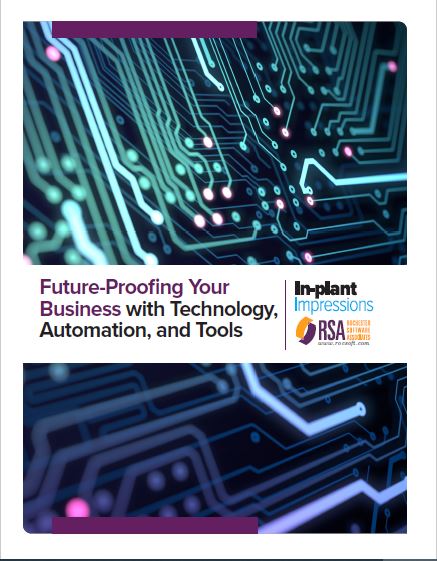 Be Ready for What's Next.
Get the free future-proofing white paper. Learn the trending challenges, the strategic responses from two print operations, and the essential tools print centers need to future-proof their operation in our white paper, "Future-Proofing Your Business with Technology, Automation, and Tools."
About this Presentation
Presented At: In-plant Impressions
Moderators: Bob Neubauer, In-plant Impressions
Panelists: Chris Schelin, Center For Disability Services and Vince Tutino. Rochester Software Associates
Sponsors: In-plant Impressions
Copyright RSA and In-plant Impressions. All rights reserved.