Rochester Software Associates
|
March 10, 2023
The print center for a healthcare system in San Antonio that serves multiple hospitals and emergency departments was faced with growing demands. To adapt and keep pace with competitors, it needed more advanced solutions that would help it earn back customer trust.
Using a three-pronged "people, process, and technology" strategy for improvement, the in-plant focused on implementing one key solution: Web to Print. The automation from implementing Web to Print has essentially become a full-time equivalent (FTE) employee for this seven-person operation. Manual processes were eliminated, and hours -- even days -- of work have been saved. Costs have decreased and trust has improved to the point that the print center now has a 99% on-time delivery and satisfaction level.
Register now for the March 28, 2003 In-Plant Impressions webinar at 2pm EDT to learn how:
Increased efficiency has built customer trust for this in-plant
A 43% improvement in job turnaround is keeping work in-house
Easier customer ordering is reducing costs and waste
Workflow automation has become a full-time equivalent (FTE) employee
Time savings enables staff and management to take on greater responsibilities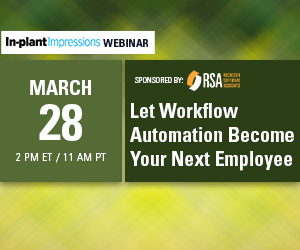 Register Now for the March 28th Webinar
Register now for the March 28th webinar to learn more about how this healthcare in-plant print center's workflow automation has become the equivalent of an FTE.