Home /

Increased Efficiency Builds Trust
Increased Efficiency Builds Trust
Workflow Automation Becomes a Full-Time Employee (FTE) for Healthcare Print Center
Methodist Healthcare San Antonio is a seven-person in-plant print center that serves multiple hospitals and emergency departments, producing over 16 million impressions and nearly 17,000 jobs per year.
In this five-minute case study interview, managers discuss the manual processes used and issues they faced before implementing RSA's WebCRD* Web to Print and the efficiencies the workflow automation software has provided.   
The automation from implementing WebCRD has essentially become a full-time equivalent (FTE) employee. Manual processes have been eliminated, and hours -- even days -- of work have been saved. Costs have decreased and trust has improved. The print center now has a 99% on-time delivery and satisfaction level. 
Watch the full case study interview video or one of the three short single-topic videos and hear how:
Automated ticketing saves 226 hours/month; automated billing saves an additional 60 hours/month
Increased efficiency has built customer trust for this in-plant
Easier customer ordering is reducing costs and waste
A 43% improvement in job turnaround is keeping work in-house
Workflow automation has become a full-time equivalent (FTE) employee
Time savings enables staff and management to take on greater responsibilities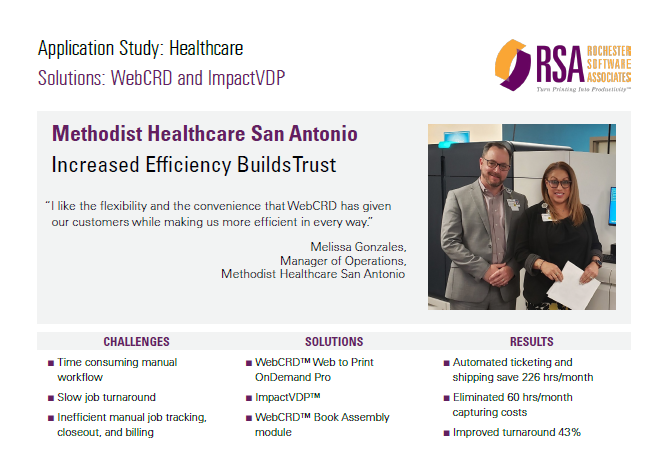 Learn More About the Efficiencies this In-plant is Experiencing
Want to learn how this healthcare in-plant print center is using Web to Print for efficiency to reduce manual print center labor, better serve customers and improve job turnaround? Download the case study today.
About this Presentation
Presented At: Online interview
Moderators: Eisha Kasinskas (Rochester Software Associates)
Panelists: Mike Schaefer, division vice president, support services, HealthTrust Purchasing Group. and Melissa Gonzalez, manager of operations, Methodist Healthcare
*Reference to any products, services, or other information by trade name, trademark, supplier or otherwise does not constitute or imply its endorsement, sponsorship or recommendation by the participants or their respective employers. 
Copyright RSA, all rights reserved. No part of this may be used without prior permission from RSA.