Home /

Methodist Healthcare San Antonio
Methodist Healthcare San Antonio
Increased Efficiency Builds Trust
"
I like the flexibility and the convenience that WebCRD* has given our customers while making us more efficient in every way.
Customer Background/Solutions Overview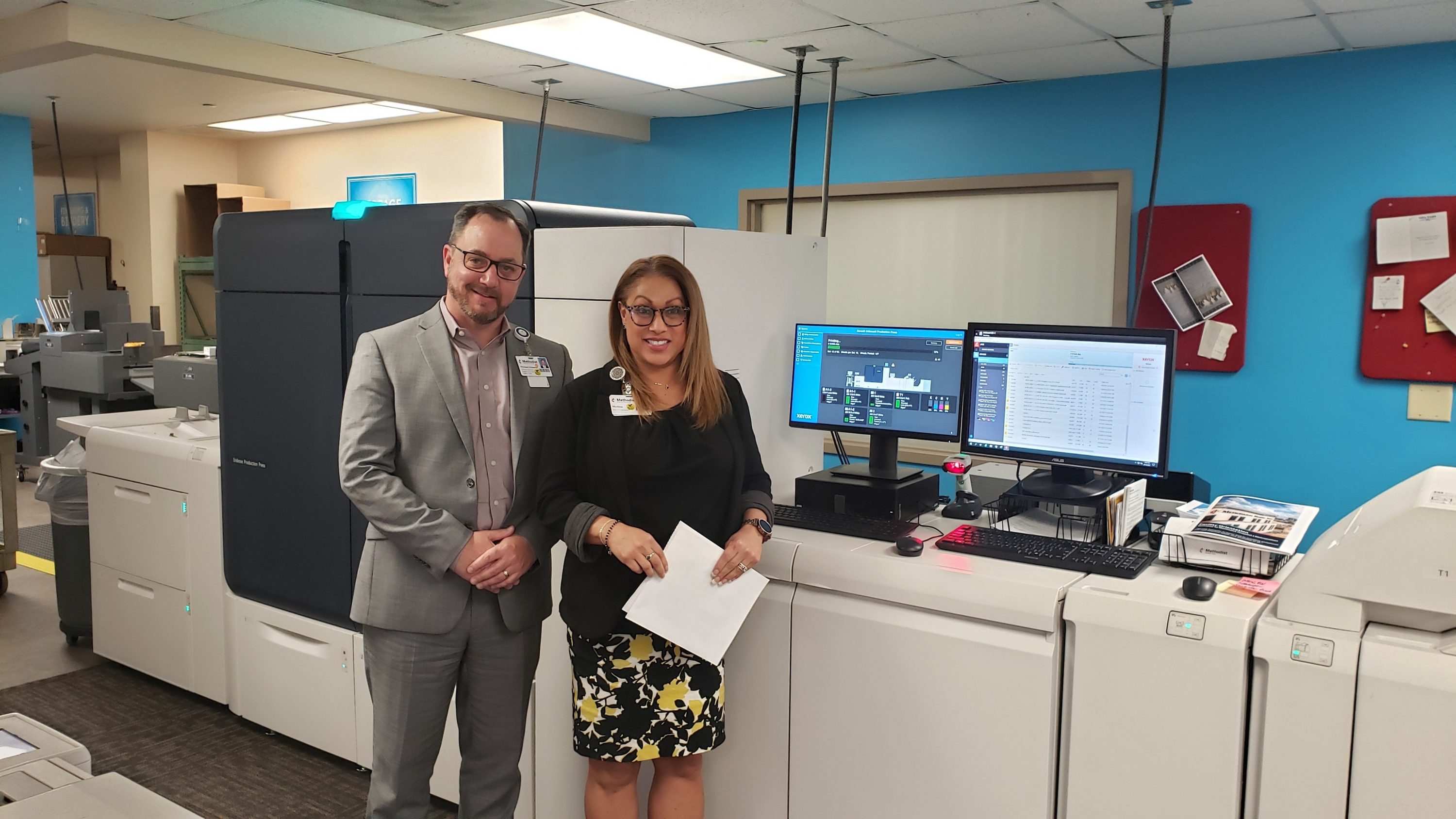 Methodist Healthcare System in San Antonio, TX has a print center that serves their hospitals, emergency departments as well as external customers. Seven employees in one location produce 16 million impressions of almost 17,000 jobs each year with a budget of $1,300,000.
For years the print center operated with a manual process for customers to submit jobs that were then ticketed, tracked, and prepared for shipping by hand. Their combination of offset printing and digital printing with a digital process that kept documents in a native format or a native PDF on a shared drive, meant operators had to access the files in one of two places and customers couldn't see the documents they needed to select.
As the demands of the print center continued to grow within their healthcare system and as different levels of services, turnaround times and other customer expectations changed, the center knew they needed to adapt with the times and keep pace with competitors and vendors in the field who had more advanced solutions in order to earn their customer's trust.
A Three-pronged Strategy for Improvement with One Key Solution
Melissa Gonzales, Manager of Operations for Methodist Healthcare San Antonio and Mike Schaefer, Division Vice President Support Services set out with a three-pronged print center strategy that focused on people, process, and technology:
For People, they aimed to improve both customer and employee satisfaction by better meeting the customer's requested turnaround time of the highest quality documents produced by engaged departmental employees.
For Process, they wanted to improve the efficiency and accuracy of document production by improving submission, ticketing and device management.
For Technology, they needed just the right solution to create a closed loop process including online submission, automatic ticketing, status updates and job close out.
After researching options and talking to others in their industry, Methodist Healthcare San Antonio knew WebCRD had the features they needed right away and that they would have a vendor who would help them grow across their enterprise and division.
Online Submission Improves Customer Trust and Decreases Waste
One of the biggest improvements was for the print center's customers. Before WebCRD, customers had to know practically what they wanted by form number before they could order it. WebCRD gives them a catalog including every form, brochure, and other collateral that people in the hospital would need. Every document in the system is preformatted in a print-ready file so customers can print on demand and quickly get exactly what they need.
Now customers can see a proof of the document before they order. "Before WebCRD, customers might have accidentally ordered 2,000 'Form T13' instead of 'FormT13b,'" explains Schaefer. "Selecting from a menu and seeing the document first eliminates the hassle of returning and reordering and the cost of wasted materials and labor."
Since implementing WebCRD in 2018, turnaround has improved 43% or more (7-10 days to 3-4 or even 1-2 days) and the center currently achieves 99% on-time turnaround and satisfaction rates.
Automated Ticketing and Online Tracking Saves Hours and Dollars
"
WebCRD has helped us be much more efficient, remain under budget and build trust back with our customers.
When jobs came in by interoffice mail, fax, or manual drop off, the operations manager had to create hard copy job tickets on three-part forms including all job attributes such as two-sided, paper type, quantities, bindery, delivery time, location, and who to bill. This was then manually entered into a spreadsheet. At the end of every shift all those paper job tickets came back to be handled again and closed out. With WebCRD the operations manager can touch a job ticket once.
The print center has fewer calls to answer too. "Customers are not calling as much anymore to say, Hey, where's my job?" says Schaefer. "They can log in, look at their job, and can see for themselves whether it's in pre-production, production, or shipping at any time. That really builds trust in our operations."
Since implementing WebCRD, Methodist Healthcare San Antonio has reduced 216 hours a month in job ticketing and shipping coordination. They've also gone from spending more than 60 hours a month manually closing out jobs to simply clicking a few buttons inside WebCRD to produce a report.
Building Trust Keeps More Jobs in House
One of the ways the print center convinced their finance department to approve the purchase of advanced Web to Print software was sharing the fact that a better customer experience and faster turnaround times helps prevent customers from sending their jobs outside the system. While the print center always had the right of first refusal, it was common for some of the 10,000 customers across seven hospitals and multiple freestanding EDs to want to explore outside vendors. Of course, the cost to the customer and the institution was usually much higher.
With WebCRD, outsourcing has been virtually eliminated and what remains is managed by the print center on behalf of customers so the costs can be controlled and documented. 
Better Technology Brings Freedom and Opportunity
"With WebCRD, I don't need to be in the print center at all anymore," explains Schaefer. "So, leadership gave me more assignments and more departments to oversee."
The same thing happened to Gonzales. "With WebCRD I can manage everything from my desk and stay efficient," says Gonzales. "That's one of the things that I love most about this change."
She can literally do her job from anywhere today. She can run the print center on her phone or laptop while traveling or in another department, and WebCRD's AutoFlow™ means the printers will even start on their own. The result is Gonzales is now in charge of another, larger operation as well. 
The automation within WebCRD became a virtual full time equivalent (FTE). But the print center didn't use this fact to eliminate anyone's job, they simply enabled people to share their skills further.
*Reference to any products, services, or other information by trade name, trademark, supplier or otherwise does not constitute or imply its endorsement, sponsorship or recommendation by the participants or their respective employers. 
© 2023 Rochester Software Associates, Inc. All brands and product names are registered trademarks of their respective companies. 2/2023
Study Quick-Look:
Application Study Industries
Challenges
Time consuming manual workflow
Slow job turnaround
Inefficient manual job tracking, closeout, and billing
Statistics
| | |
| --- | --- |
| Center Staff: | 7 Employees |
| Impressions/Yr: | 16 Million |
| Jobs/Yr: | 17,000 |
| Budget: | $1.3 Million |
Solutions
WebCRD™ Web to Print OnDemand Pro
ImpactVDP™
WebCRD™ Book Assembly module
Results
Automated ticketing and shipping save 226 hrs/month
Eliminated 60 hrs/month capturing costs
Improved turnaround 43%