Elisha Kasinskas
|
August 10, 2017
If you skipped Graph Expo last year, haven't been in a while or have never attended, you may be wondering what's new or why you should attend Print 17, September 10-14 at McCormick Place in Chicago.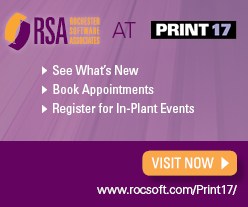 Transformed into a new experience after extensive input from thousands of stakeholders, including in-plants, NPES has a long track record of recognizing in-plants as a key attendee segment. PRINT 17 is still the largest gathering of printing, publishing and mailing/fulfillment communities in the Americas and the only place where you can see top equipment, software and services vendors under one roof, educate yourself and network with industry peers.
12 reasons Why In-Plants Should Attend Print 17:
Make more money than managers who don't attend conferences. In-plant Graphics' "2017 Salary Survey Report" shows that the in-plant managers who attend educational conferences make more money than those who stay at home.
Explore new services. Offering new services is a key way to stay relevant, demonstrate value and prevent outsourcing. Hear three in-plants talk about the bold moves they are each undertaking in new services and new initiatives to assure their future in session R8, "In-Plant Panel: Bold Moves for the Future." Monday, September 11.
Learn from a robust seminar program with 37 sessions that in-plants can benefit from! Save $50 and get a free hall pass- use promo code SPSave50 when you register.
OUTLOOK 17 (formerly the EXECUTIVE OUTLOOK Conference) a half-day session held September 10, prior to the opening of PRINT 17. This popular conference offers those in leadership positions an opportunity to learn, make connections and hear offer practical ideas for future success. See the program here.
In-plant Place sponsored by IPMA in booth 1272, an exclusive in-plant networking hub, open to all in-plant professionals during show hours on the show floor. Stop in, chat with fellow in-plants, and even enjoy a happy hour reception on Monday, September 11. 
Learn about streamlining your workflow with Rochester Software Associates in booth 231. We'll be showing the latest software releases of three products. You also can experience a technology demonstration of Amazon's Echo voice recognition integrated with RSA's QDirect output manager for "flash briefings" and giving verbal commands to control job flow. 
The ninth annual FREE IPMA lunch & learn, Monday, September 11, 11:30-1:30 PM. Enjoy lunch from IPMA while I moderate "Futurescape: The In-plant of Tomorrow," a panel of four in-plant managers that will discuss what the future holds for in-plants and how they are preparing to meet the needs of tomorrow.
Learn how "

Award-Winning, Automated Workflow $aves $$$" 

in an exclusive In-plant Graphics lunch sponsored by RSA on Tuesday, September 12. The managers of Blue Valley Schools' in-plant will reveal how their automated workflow has saved their district hundreds of thousands of dollars, while increasing their in-plant's value, bringing in more work and improving its efficiency. Limited seating.
Learning Experience Theater- a new section of the show floor (booth 3861) where you can attend sessions at no cost like The Future of the In-plant, an IPMA study, and open forum and networking happy hours and printer panels.
Print Media Centr's Printerverse (4425). Five days of "printspiration," free panels, sessions, Girls Who Print Day and so much more! All programming is broadcast live.
Celebrate Print- A new "party with purpose" and chance to network with other in-plants while raising money for a great cause. Tuesday, September 12 from 5:30 - 7:30 pm. There's even a free shuttle to the famous House of Blues where the event will be held.
Co-located events held throughout the show, including the complimentary Xplor Breakfast Panel Session, "Exploring the Role of Print in Today's Customer Journey," moderated by Keypoint Intelligence- InfoTrends on Tuesday, September 12  from 7:30am to 10am. Great for transactional in-plants. 
While there are many reasons to attend Print 17, a better question might be why aren't you planning to attend? You won't want to miss Print 17!